Cruise Trivia: What is the function of this lovely glass bowl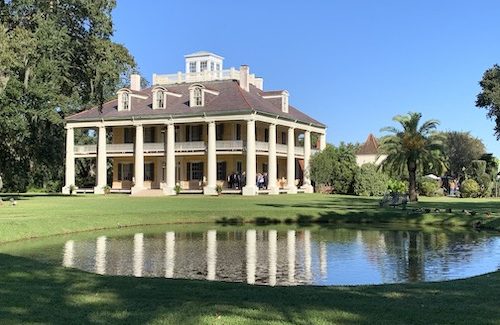 When I first saw the lovely glass bowl sitting on the dining room table, I thought it must be a fancy flower container or maybe a fruit dish.
After all, the table is set for a fancy dinner and this is the beautiful Houmas House along the mighty Mississippi River. Surely, that fancy glass container must serve some pleasant function.
I was surprised when the tour guide told us the actual use for that glass bowl. However, it does make sense.
Do you know how the bowl in the picture I took was used during Victorian times?
Don't look at the answer below until you've formulated your own sweet response. Congratulations, if you are correct.
If you answered incorrectly, you might want to book a riverboat cruise, like I did on the American Harmony when we stopped at Houmas House. Or, even if you answered correctly, you might want to reward yourself by booking a cruise.
*
*
*
*
(Answer)
The beautiful bowl had a deadly use. It is a Victorian fly catcher. Some sweet such as sugared water would be placed in the bowl to attract flies to zoom in, then they couldn't fly out.
Sometimes, the liquid would be milk mixed with arsenic. Yuck!
As for Houmas House, the circa-1840 Greek Revival mansion is located between Baton Rouge and New Orleans, just 4 miles from 1-10 on Louisiana's historic River Road. Houmas House is a popular stop for riverboats.
In 1829, General Wade Hampton began the task of transforming the site into what stands today. After a series of owners and changes, a New Orleans businessman named Kevin Kelly purchased the mansion and its entire contents as well as the gardens and grounds in the spring of 2003.
After extensive renovations to restore the site to its historic glory, Kelly opened the house and gardens for tours in November of 2003. Kelly also lives in the mansion.
Cottages are available for guests and three restaurants on the site serve delicious cuisine.
For a bit of lagniappe, here's a yummy recipe for the famous Lurline Langlois Pralines served by Chef Jeremy Langlois at Houmas House. The recipe honors Jeremy's mother, Lurline Langlois.
Lurline Langlois Pralines
Ingredients:
1 cup sugar
1 cup brown sugar
½ cup evaporated milk
½ cup pecans
1 tablespoon butter
Preparation:
In a small, thick-bottomed saucepan, combine all ingredients and heat over medium-high heat. Bring mixture to a boil and cook for 6 minutes or until 240 degrees, stirring constantly. Remove from heat and stir in butter until mixture thickens, becomes creamy and pecans stay suspended in mixture. Spoon out on wax paper, aluminum foil or parchment paper.
Cover photo: Houmas House is a favorite stop of riverboats. Photo by Jackie Sheckler Finch