Carnival's Dream Offers WaterWorks Thrills - Crown Cruise Vacations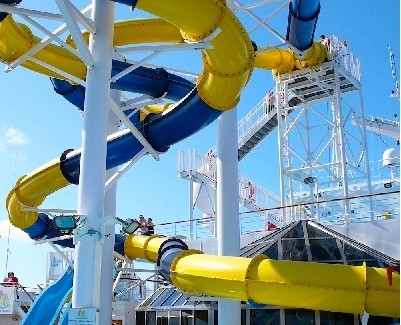 We could hear him screaming all the way down.
When he reached the bottom of the water slide, the muscular guy with the shaved head and tattooed torso stood up with an embarrassed grin, took a sheepish half bow and walked off to the applause of onlookers.
"It's scarier than it looks," the man – Butch Mitchell from Miami – explained. "It's dark in there and you're bouncing all around and don't know when you're going to get out."
Of course, as Butch was describing what made him yell, a little girl came zooming out of the same ride and declared, "Let's go again, Mom!"
Our first day at sea aboard the Carnival Dream cruise ship was filled with delicious cuisine, water fun galore, an interesting cooking class, shopping, music and games. And the trip had only started. A blue sky dotted with fluffy white clouds was perfect for outdoor activities or just relaxing on the deck and watching the beautiful Caribbean. The private patio off our stateroom was a lovely place to write with the ocean symphony for background and no other ship or human being in sight.
Launched in September 2009, the Dream is literally in a class by itself. At 130,000 tons, the Super Liner can accommodate 3,646 passengers and, at the time, was the largest vessel Carnival ever built.  Among its many entertainment and activity options is a water park unlike any other at sea when it was constructed, including an amazingly long waterslide.
Named the Twister, the heart-pumping corkscrew waterslide spins riders more than 300 feet down four decks of fun. Then there's the DrainPipe, a giant tunnel attached to an enclosed spiral waterslide, plus twin 80-foot-long racing lanes just waiting for cruising friends to challenge each other to a watery competition.
Pint-sized cruisers have a kiddy slide plus plenty of squirting fountains, dump buckets and splashing opportunities.  Several hot tubs are a great place to relax with an incomparable ocean vista. A pool under a huge screen gives both swimming and movie viewing pleasure.
An adults-only oasis offers sweet serenity while relaxing in a hammock, dreaming under the shade of a pergola or soaking away real-life cares in the soothing water.
– By Jackie Sheckler Finch