Athena hotel manager finds cruise ships are the life for him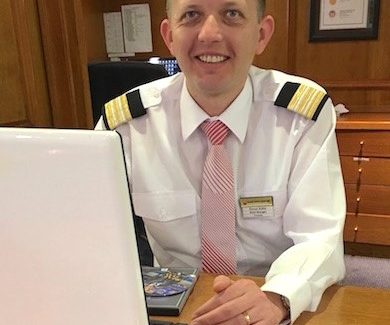 By Jackie Sheckler Finch

When Zoran Kikic went to sea as a young man, an experienced mariner gave Zoran and other new sailors some friendly advice: Be cautious about signing on for more voyages or the sea will become your lifelong passion.
"He told us to think not twice but to think five times before we came back on a ship," Zoran said.  "He said it will get in your blood and the ship will become your life.'
Needless to say, Zoran didn't follow that advice. Today, he is hotel manager for the M/V Athena on our Grand Circle cruise from Athens, Greece, to Zagreb, Croatia. And I must say this is one of the most smoothly run cruises I've ever taken.
My cabin and the rest of the ship are kept in tip-top condition. My dining companions and I commented at lunch one day that we don't know how the crew keeps all the windows so spotless. The dining room and lounge are lined on both sides with large windows so we can watch the constantly changing views. All those windows are clean both inside and outside. As a homeowner with many windows, I know how much work that is and how much more pleasurable it is to see the world through spotless glass.
As a child, Zoran said he never had any particular desire to work on a ship. "I didn't know what I wanted to be when I was a child," he said.
Born in Bavaria, Germany, to Croatian parents, Zoran moved back to Croatia when he was a year old. He was raised by his grandparents. After graduating from high school, Zoran got a job at 18 and then joined the Croatian Army at 19. He spent three years with the United Nations Protection Force (UNPROFOR).
                                                      Working his way up
In 1999, he began working on Celebrity Cruise Line and found his future. "I started at the bottom and worked my way up," he said. "After 9/11, I became a waiter on the ship … It opened my horizons and was a great way to see the world."
On a couple days of free time between cruises in Miami, Zoran met a young lady named Ina from Serbia who would become his wife. "We met in front of a hotel," he recalled.
The couple now have an 11-year old son named Matej. Zoran works three months on a Grand Circle ship and one month off.  Although it is difficult to be away from his family for so long, Zoran said he prefers to think of the positive aspects of being a Grand Circle hotel director.
"On this ship, life is simple and easy. Everything here is so well organized," he said. "We all have a job to do and we do it. It takes me three seconds to get to my workplace."
What he likes most about working with Grand Circle, Zoran said, is the small size of the ship, the company's ongoing quest to improve, his fellow crewmembers, traveling the world and making friends with new passengers.
One time, Zoran said, his son did complain about his father being gone so much. "He said, 'I am growing up without you.' That is partly true and partly not," Zoran said. "I told him I am sorry I cannot be there every night after work but when I come home for my month off every three months, we can be together 24 hours a day. Other fathers don't spend any more time with their sons than I do. I just do it for whole days at a time."
Zoran told his son that it is important to find a job that suits him and that he loves. "I said if I am going to have a job that I don't like, I will not be mentally happy and then I will not be good for anyone."
After listening and thinking a while, Zoran said his son agreed. "He said, 'I get you. I understand what you are saying.' It is more important to look at the bright side of life."
Sense of humor
That is another thing we began noticing immediately about Zoran on our cruise. He is definitely a positive person and could make even routine housekeeping talks funny and interesting. We knew there were going to be some laughs involved whenever Zoran started talking to us. He has a dry sense of humor and reminds me of mix between American entertainer Steve Martin and British comedian John Cleese.
"I watched Monty Python as a teenager," Zoran said. "We could get British shows in Croatia and I always watched Monty Python. Maybe I got some of my humor from them."
But sometimes, Zoran added, what might sound funny in the Croatian language might not translate well. "I started studying English in the third grade in elementary school," he said "But the first time I was on a ship I was afraid I would say or do something wrong."
Judging from fellow passengers' response to Zoran, I don't think he has to worry about that anymore. He is quite efficient about making sure the hotel aspects of the M/V Athena are shipshape and he is also a popular ship officer.
I remember seeing Zoran in his civilian clothes rather than his ship uniform when the M/V Athena stopped in Kotor. He was walking down the street ahead of our tour group and fellow passengers seemed so excited to see a man we had seen at lunch only a few hours before and were going to see again at dinner in a very short time.
"That's Zoran. Hey, Zoran," some passengers shouted as though we were having a celebrity sighting.
"I think it's important for everybody to have a change of environment," Zoran said back on the ship later that day. "I like going on shore when I have time off but I always look forward to returning to the ship."
Sounds like Zoran has gotten the sea in his blood for sure and we are lucky that he did.
Photo by Jackie Sheckler Finch