AmaWaterways shares popular onion soup recipe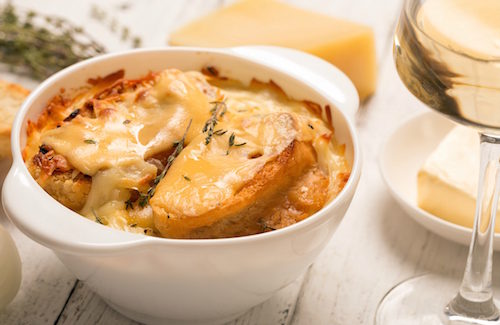 Onion soup has always been one of my favorites. My Dad would make it when I was a child, especially in winter when he said onion soup would help warm us up and ward off colds.
Over the years, I have enjoyed onion soup is many different places. I've also realized that the soup is made in various ways. Interesting.
The French put their own delicious spin on the soup in the 18th century in Paris. There are numerous stories surrounding its creation, some revolving around King Louis XV.
Perhaps the king or his servants created the iconic broth after a day of hunting for deer. Or it's possible that Louis' father-in-law may also have brought it to court after first enjoying it at Versailles.
The soup may have even played a part in creating the modern use of the word "restaurant" as a Parisian restauranteur supposedly opened an eatery offering the soup and describes its restorative traits. The French word for "restore" is "restauration."
Popular in the United States since the 1960s, this soup has been prepared in restaurants around the world for centuries and by such famous chefs as Julia Child and Alton Brown.
It is often characterized by the cheese and croutons that cover the caramelized onions and beef stock-based soup. The caramelization brings out the sweetness of the onions. Each chef brings his or her own special touch to the broth, but many recipes call for wine.
AmaWaterways shared the cruise line's onion soup recipe. Try it at home or, even better, book a cruise with AmaWaterways and savor the soup while enjoying the spectacular sights of Bordeaux, France, on an AmaWaterways river cruise.
French Onion Soup Recipe
Ingredients
1 pound onions, finely sliced
½ stick butter
2 cups beef stock
2 cups chicken stock
1 cup white wine
½ cup red wine
Salt and pepper to taste
1 sprig each fresh thyme and marjoram
1 garlic clove, minced
1/8 cup Cognac
French bread sliced
½ cup grated Gruyere cheese
Preparation Method
Sauté onions and garlic in butter in an uncovered soup pot until onions are nicely browned. Add thyme, marjoram, Cognac, white wine, beef and chicken stock and bring to a boil. Reduce and simmer for 40 minutes until onion flavor is well developed. Season to taste and add red wine. Serve with French bread croutons and grated Gruyere cheese. Makes 4 servings.
Photo courtesy of AmaWaterway
By Jackie Sheckler Finch