Wilderness Explorer is 'Green' Ship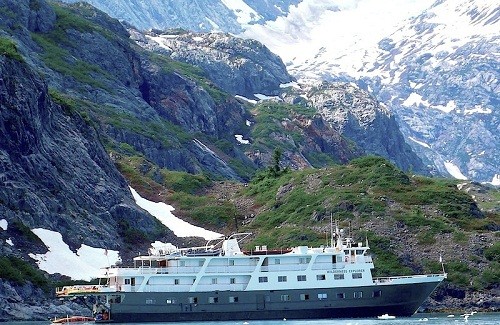 Our dining table aboard the Wilderness Explorer had no dinner menu. Must be misplaced, I thought. Then I discovered that the ship does not print daily menus because of its efforts to be "green."
"We take our commitment to conserve and protect the environment very seriously," said Debi Heins, hotel manager for the Wilderness Explorer. "We do everything we can to be 'green.'"
Daily menus are posted on a bulletin board and passengers choose their dinner entrée earlier in the day. "We put a list of passenger names and, next to your name, you chose whether you want meat, fish or vegetarian for dinner," said head chef Bob Ward.
For those delicious meals, the chef supports local economies by buying salmon, fish and other locally-produced foods and products whenever possible. One of my favorite dinners was the crab cake with sweet chili aioli and the strawberry shortcake for dessert. This was the real strawberry shortcake like my mother used to make with biscuit-type shortcake instead of those little squishy cakes that most grocery stores sell for shortcake.  The strawberries were fresh and not overly sugared, topped with what must have been real whipped cream.
That was only one of the conservation efforts I noticed on my trip on the American Safari Cruise Line.  My itinerary and all my preparations for the trip, in fact, were made electronically. Cutting back on the use of paper is an ongoing goal.
Reusable water bottles by the sink in my cabin are a reminder to conserve water and drinking utensils. Cloth napkins on the dining table take the place of paper. No Styrofoam or plastic cups or glasses are used on this vessel. Recycling efforts are everywhere.
The bamboo plants in every cabin and in the lounge on the Wilderness Explorer are a pleasant touch of green without having to buy cut flowers. "A bouquet of flowers is beautiful. But they die," Debi said. "This bamboo keeps on living. You don't have to kill it to enjoy it."
As for cleaning – which the ship's crew seems to do constantly to keep everything looking lovely – the ship uses "green" cleaning supplies. "It is all organic, no chemicals," Debi said, pulling a couple of bottles of cleanser from behind the lounge counter.
Eco-friendly toiletries and amenities are provided for passengers. Instead of bars of soap and bottles of shampoo and body wash, the Wilderness Explorer has soap and shampoo dispensers in the shower and by the bathroom sink.  Those cute little bottles that many hotels supply are nice but they do seem a waste of plastic, as do bars of soap that are often opened, used a few times and then left for the housekeeper to discard when the guest checks out.
The ship also encourages less frequent washing of linens, which I always support when a hotel or motel offers the choice. I don't wash my bedcovers at home every night, nor do I wash my bath towels after one use so I see no need to have it done when I am staying in a hotel, motel, ship or other accommodations.
Cruising some of the world's most fragile and pristine ecosystems, the Wilderness Explorer believes it is a privilege to explore the world's natural wonders and strives to leave a positive impact on the people and communities they visit.
"Our goal," Debi said, "is to leave nothing but footprints and take nothing but photos."
-By Jackie Sheckler Finch