Voice of the Ocean serenades on Regal Princess cruise - Crown Cruise Vacations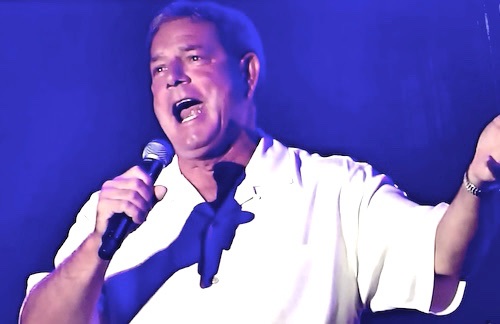 Strolling onto the stage of the Regal Princess Theater, passenger Don dedicates his song to his father. Then he starts crooning the Sinatra standard "My Way."
And surprise.
Don can sing. All three judges of "The Voice of the Ocean" swivel their chairs around to say "I Want You" in asking Don to be on their team. At evening's end, Don has won the cruise competition as "The Voice of the Ocean."
A packed audience applauds the man who said he calls "everywhere" his home. Raised as an Army brat and later as a career serviceman, Don said that wherever he hangs his hat is home.
I didn't know what to expect when I went to see "The Voice of the Ocean" finals on the last night of our Regal Princess cruise. I've seen enough karaoke to know that many people enjoy singing even if they can't carry a tune. That is fine. It is fun.
But I wasn't' sure that I wanted to sit in the beautiful Princess Theater and suffer through a parade of non-singers.
Turns out the seven finalists were all entertaining and well worth the listen.
"Whether guests are up on stage or in the audience deciding who gets their vote, we know 'The Voice of the Ocean' will be a huge hit with Princess guests," Adrian Fischer, vice president of entertainment for Princess Cruises, said in announcing the singing competition.
"Guests will feel like they are part of the globally popular TV show performing on a high tech set almost identical to the hit show, including rotating red chairs and a live Princess band with back-up singers," Fischer said. "We're excited to discover and foster undiscovered talent and offer guests a whole new way to express their love of music and performing."
The way the cruise show works is that passengers participate in karaoke try-out sessions in ship lounges or showrooms at the beginning of each cruise. Entrants must be 16 years or older. Passengers and cruise staff decide who moves on to compete.
Selected singers then are assigned a mentor – either a Princess musical entertainer or vocalist – who meets with them during the cruise to rehearse with the Princess band and back-up singers.
On the big night, the trio of judges will listen but not see the performer as they decide to turn their "I Want You" chair to choose the singer to be on their team. Once teams are chosen, coaches will then pick one finalist. From the three finalists, the audience votes for the winner who will be awarded a trophy and proclaimed "The Voice of the Ocean."
"It was a lot of fun," Bill of Miami said, exiting the theater with his wife. "No way would I ever get up there and sing. I think the people who did were brave and they all did a good job."
Cruise director Kelly Rose said the Voice completion is part of Princess Cruises "Come Back New" brand promotion. The program was designed to elevate passenger experience by creating enriching moments and lifelong memories.
Winner Don said his singing turn in the limelight was "unforgettable."
Story and photo by Jackie Sheckler Finch