Visiting new Amber Cove cruise port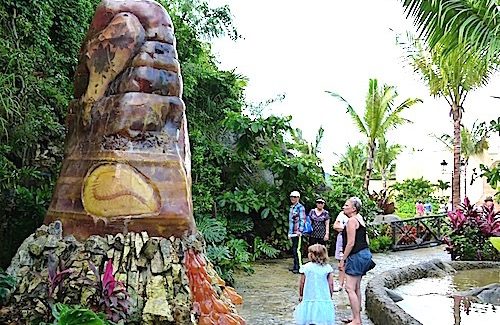 By Jackie Sheckler Finch
It wasn't the rhythmic Caribbean music or the tumbling waterfall or the devilish looking masks that caught 6-year-old Angela Thompson's attention. It was the replica of a prehistoric lizard trapped in amber thousands of years ago.
"The lizard paused and turned. And that moment was forever preserved in golden liquid amber," her mother read from a display sign. "The actual specimen is one of the most famous in the world and is located at the Amber Museum in Puerto Placa."
Angela also was thrilled to know that the place she was visiting was a filming site for the 1993 movie Jurassic Park. "I love that movie," the Florida youngster said.
Welcome to Amber Cove, the $85 million cruise port developed by Carnival Corporation on the north coast of the Dominican Republic. When the port opened in October 2015, it marked the first time the town just outside Puerto Plata had seen cruise ships in nearly 30 years.
The Amber Coast got is name due to some of the richest amber mines in the world. The area was discovered by Christopher Columbus in 1492 and named Puerto Plata or "port of silver" for the silver waters and the silvery fog that sometimes rolls in from the sea.
Two ships can dock at Amber Cove at the same time. Bicycle cabs are plentiful when disembarking from the ship. The bikers pedal passengers down the long pier for tips. The bike taxis didn't seem to be getting much business when we first disembarked in Amber Cove but the pedalers got much busier when rain showered off and on during the afternoon.
Shore excursions for Amber Cove range from visiting Puerto Plata and Santiago City to taking an ATV trek or a catamaran cruise. Swimming with the dolphins, watching Dominican cigar crafting, snorkeling and helping create chocolate bars at a women's coop are other choices.
Cabanas with air conditioning and TVs also can be rented at Amber Cove. For the ultimate Grand Cabana at $1,169.95 for a day, a maximum of 20 family and friends could enjoy a 1,000-square- foot bungalow over the ocean. The cabana includes a large deck, deck chairs and personal hot tub, plus a zip line trip and some water activities. A server is always close at hand to take food and drink orders.
Designed to look like a Dominican town, Amber Cove has a fort-like structure at the entrance. Three architectural styles – Victorian, Colonial and Fortaleza – are colorful and filled with restaurants, bars and shops. For shoppers, the variety includes big-name retailers as well as a marketplace with local arts and crafts. Amber Cove also has a large swimming pool and water activities such as slides, a kiddy splash area and a lazy river.
Amber Cove is safe and clean with a heavy security presence. The facility boasts a large transportation hub with taxis, tour buses and car rentals. A four-piece band was playing for tips when I visited.
What Amber Cove doesn't have, however, is a beach. Cruisers coming ashore with towels and beach bags expecting to dip their toes in the Caribbean and lounge on some sparkling sand will have to pay for a shuttle or taxi to transport them to a beach.
Photo by Jackie Sheckler Finch