Visiting a Polynesian vanilla plantation on Huahine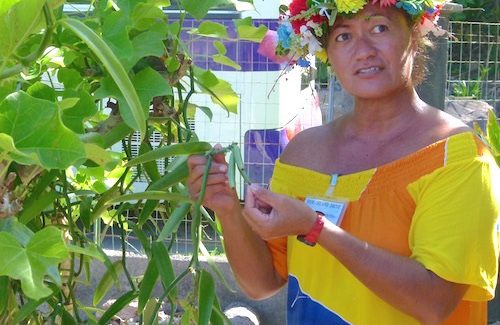 By Jackie Sheckler Finch
The sweet smell of vanilla wafted on the air as we walked toward the plantation. Two cruise ship passengers said this shore excursion in Huahine was one they had prepared for with extra money and some space in their suitcases for vanilla purchases.
The women headed straight for the small shop to buy vanilla extract for themselves and as souvenirs for friends at home. The fresh-grown vanilla is a bargain, they said, and far better quality than what we buy in supermarkets at home.
Walking through the vanilla garden with tour guide Georgette, she explained the labor-intensive job of farming vanilla. For some reason, I thought a vanilla plantation would be huge but this one, Le Maison de la vanilla, was more like a well-tended flower garden.
"This plantation is family owned and it is a lot of work. That's why everyone in the family works on it," Georgette said.
"They have to pollinate each flower by hand. We have very lazy bees here which pollinate only about five percent of the plants."
It takes nine months until the vanilla beans can be harvested. "Just like a baby," Georgette said.
The beans are then dried and sold as is or made into vanilla extract. After seeing all the vanilla pods and other vanilla products my fellow passengers bought, I can imagine how good their suitcases must smell when they arrive home.
Photo by Jackie Sheckler Finch