Viking looks to the stars for godmother of new ship Orion - Crown Cruise Vacations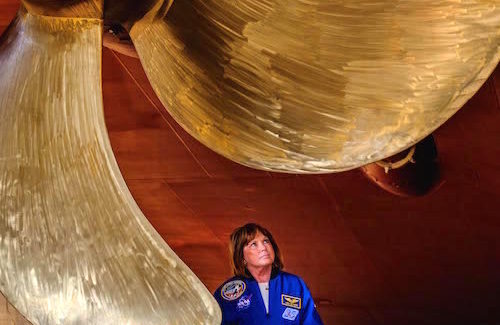 The godmother of Viking's fifth ocean ship – the Orion – is appropriately a retired NASA astronaut. Dr. Anna Fisher will be honored as godmother for the Orion which will debut in July 2018.
"Vikings were the original long-distance explorers and the first to use the stars and constellations as a way to navigate uncharted territory," Torstein Hagen, chairman of Viking, said in a news release.
"The spirit of exploration is at the heart of everything we do, and so I am especially proud that an astronaut will be honored as godmother to out new ship. Dr. Fisher is a past Viking guest, a fellow scientist and a true explorer. As one of the first women in space, she has inspired generations of curious minds, and I look forward to welcoming guests onboard Viking Orion to learn more about her impressive career in space exploration."
Along with being a recently retired NASA astronaut, Fisher also is an American chemist, emergency room physician. She was born in New York City and raised in Southern California. Selected as an astronaut in January 1978, Fisher became the first mother in space when she served as a mission specialist on ST5-51A aboard the Space Shuttle Discovery, which launched on Nov. 8, 1984.
In a NASA career that spanned more than three decades, Fisher contributed to three major initiatives – the Space Shuttle program, the International Space Station and Orion, NASA's new crew-rated exploration spacecraft.
Prior to her retirement in April 2017, Fisher was the oldest active American astronaut. In celebration of her retirement Fisher sailed on Viking's Rhine Getaway itinerary in July 2017.
"The idea of exploring new territories has always appealed to me, whether through science or by traveling the world," Fisher said in a news release.
"I was 12 years old when I heard Alan Shepard's voice on the radio during his sub orbital flight, and at that moment, I knew that I also wanted to explore beyond earth's atmosphere," she said. "I knew from that young age that I wanted to be an astronaut. I always wanted to be an explorer and I am proud and honored to be godmother to Viking Orion – a ship that was designed to help her guests see more of the world."
The new ship has been named Viking Orion after the prominent constellation and in honor of Fisher's contributions to NASA's Orion exploration vehicle project.
Founded in 1997 with the purchase of four ships in Russia, Viking currently operates a fleet of 63 vessels, offering scenic cruising on rivers and oceans around the world. The ships are designed for discerning travelers with interests in science, history, culture and cuisine. Hagen often says that Viking offers guests "the thinking person's cruise."