Two Victory Riverboats Join American Queen Steamboat Company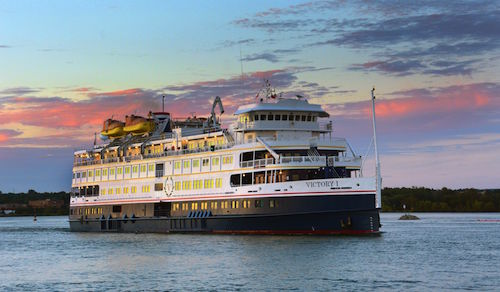 Two new riverboats will soon be plying America's waterways. Rather, two existing riverboats have now joined the American Queen Steamboat Company and are undergoing a multimillion-dollar refurbishment before entering service in May 2019
The Victory I and sister ship Victory II have cruised over from Sunstone Ships, Inc. to the American Queen Steamboat Company as Victory Cruise Line.
"American Queen Steamboat Company celebrated a record year in 2018, and the recent addition of the Victory I and Victory II to our fleet is a wonderful way to start 2019," John Waggoner, American Queen Steamboat Company Chairman and CEO said in a news release.
"Our repeat guests have long shared their desire to sail the Great Lakes and these vessels currently undergoing a shipyard refresh along with the under-construction American Countess will deliver unforgettable travel memories in a new and growing region," he said.
Starting May through October 2019, the Victory ships will offer 10-day, all-inclusive sailings on the Great Lakes.
Victory I will sail between Montreal and Detroit, visiting Quebec City, Kingston, Toronto/Welland Canal, Port Colborne/Niagara Falls and Cleveland.
Victory II will sail between Toronto and Chicago, calling on Port Colborne/Niagara Falls/Welland Canal, Cleveland and Detroit, in addition to sailing scenic Lake Huron and Little Current. The cruise also will visit Soo Locks/Sault Ste. Marie and Mackinac Island and end on Lake Michigan.
The 202-passenger Victory I and Victory II are small ships purposefully designed for coastal cruising with modern conveniences. Guests will enjoy shore excursions in each port of call, multi-course fine dining with specialty and casual options, plus spirits, beer and wine. Onboard enrichment, evening entertainment and internet and Wi-Fi in public areas also can be enjoyed.
Photos and story courtesy of Jackie Sheckler Finch