Travel Trivia: Woman honored in 'The Land of Fire and Ice'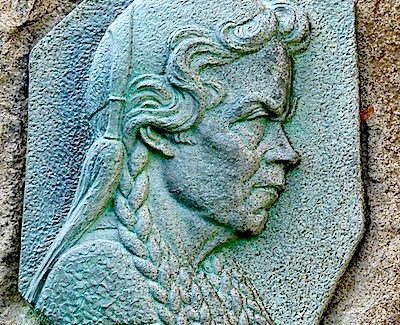 By Jackie Sheckler Finch

Many people have visited the site where this memorial is located. But most people walk right by the metallic relief of a stern-faced woman and head straight to the nearby amazing natural wonder.
However, it was this woman who helped save the thundering attraction that she so loved and that folks flock to see.
A hint: This monument is located in the country nicknamed "The Land of Fire and Ice."
Don't look at the answer below until you've formulated your own response. Congratulations if you are correct.
If not, you sure are not alone. Might be time to explore this incredible island and do it aboard the Ocean Diamond cruise ship.
*
*
*
*
(Answer:) The lady whose face is engraved on a stone memorial is Sigríður Tómasdóttir. The site is Gullfoss waterfall in Iceland.
Gullfoss is Icelandic for "golden waterfall" and when I arrived water seemed to be coming from everywhere. I could feel the glacial mist in the air as soon as I stepped out of the car. Not easy to get a photo without getting your camera wet.
In a country renowned for waterfalls, Gullfoss is said to be the most beautiful and most accessible. Numerous wooden walkways let you walk to various viewpoints.
At first, you don't see the massive waterfall. I looked up when I should have looked down because most waterfalls I have seen are up high with the water flowing down.
Gullfoss falls are somewhat obscured from view in a crevice. Walking nearer brings Gullfoss into full view as thousands of tons of icy water thunder majestically down into a deep canyon.
Sigríður's family originally owned Gullfoss. Sigríður and her sisters loved the falls, cutting the first footpaths to guide visitors to see the natural beauty.
When her father was approached by foreign investors to sell Gullfoss so it could be harnessed for the production of electricity, Sigríður vehemently opposed the project. So strongly did she object that Sigríður threatened to throw herself into the waterfall if her father approved the sale. He didn't.
The State of Iceland acquired the waterfall in 1940 and it has been a State Preservation Site since 1979. Sigríður died in autumn of 1957 at the age of 87.
Gullfoss is considered priceless in its natural beauty. The simple memorial is located beside the trail at the lower falls. Few people stopped to see it when I was there. The falls were the main attraction. I imagine Sigríður might have been quite pleased to know that visitors hurried past her honor and headed straight to Mother Nature's treasure – those gorgeous Gullfoss falls.
Photo by Jackie Sheckler Finch