The Theatre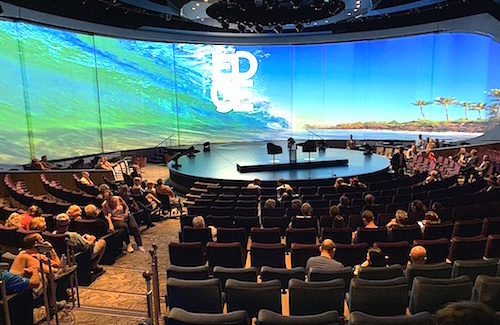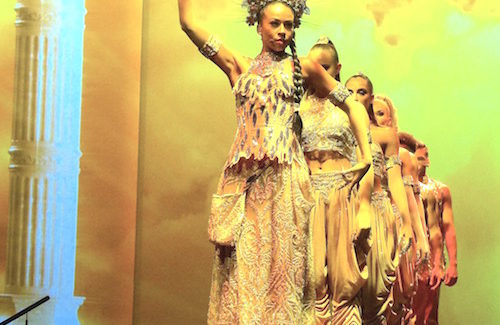 "The stage has no curtain," the woman seated next to me whispered when we sat down in the new Celebrity Edge Theatre.
She was right. Not only does the new Celebrity Edge Theatre not have a curtain, the stage itself extends into the audience.
"This is a very different theatre than you are used to on a ship," said Richard D. Fain, chairman and CEO of Celebrity's parent company, Royal Caribbean Cruises Ltd. "The in-the-round design puts everyone closer to the stage."
Among the super high-tech features are an incredible sound system with 154 speakers that allows sound to come from every direction, four stage areas, three gigantic moving projection screens, 16-state-of-the-art video mapping laser projectors, aerial performance rigging, and two rotating spiral staircases.
Just for the heck of it, I sat in three different seats in the theater – front, back and middle – and they all were great. The two shows I saw were very different. The first was "Hype," which was described as "a musical journey" and featured musicians and singers doing just that. I wasn't a great fan of the newer songs they sang, but other audience members seemed quite happy.
The second show called "The Jewelry Box" had a plot that seemed to be about good versus evil with the triumphant end being a world that lives in peace. That show had far more technology and amazing acrobatics than "Hype." The second show was fast paced, used more of the unusual stage and was very impressive, much more to my liking than "Hype." But I was happy to see such diverse shows that appeal to different audiences.
Celebrity Edge should take a bow for that entertainment and for the other exciting innovations on the new ship. I'm sure the Celebrity Edge will find many loyal fans and dedicated repeat passengers.
Photos and story by Jackie Sheckler Finch