Salamanca Archives - Crown Cruise Vacations
May 9, 2019 | Jackie Sheckler Finch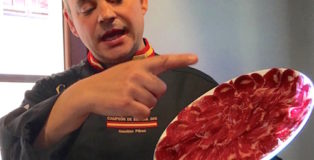 Anselmo Perez didn't eat much Iberian ham when he was growing up. "We couldn't afford it," he said.
Now, Perez can eat as much of the exquisite delicacy as he wants. And he can have it carved by one of Spain's champion Iberian ham carvers – himself. Read more...
December 18, 2018 | Jackie Sheckler Finch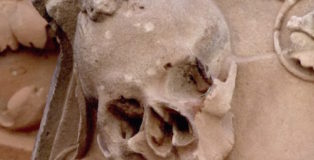 Craning their necks, a crowd of people gathered outside the University of Salamanca searching for a tiny frog somewhere on the university's walls.
A street vendor stood ready to help onlookers find the tiny critter and to sell them a postcard photo and souvenir of the elusive amphibian.
Now celebrating its 800th birthday, the University of Salamanca has many treasures and tales and the frog is just one of them. Of course, it is not a real frog. It's a carving of a toad atop a skull.
"Legend says that students who can find this skull with toad atop it on the facade of the university will have good luck on exams," said tour guide Mercedes Arribas. "The carving is very difficult to see."
It definitely was hard to find but I did see it and got some photos with help from others in the crowd.
Another tale says that the toad atop the skull is a warning to students. The toad represents sexual temptation and the skull is death. So students should pay more attention to their studies than to carnal pleasures or their time at the university might be short lived.
Founded in 1218 by King Alfonso IX, the University of Salamanca is the oldest in Spain and one of the oldest in the world. Located in the interior of Spain, Salamanca sits in the heart of old Castilla and boasts what is said to be the purest form of the Spanish language.
"Many students come here to study Spanish," said Julio Cordero Gonzalez, Director of the Office of the Eighth Centenary. "We have students come here from around the world."
Visitors and group tours also visit the university to admire its architecture and hear the history of the teachers and students who once graced these halls – such as Miguel de Cervantes, Christopher Columbus, Ignatius Loyola and Hernan Cortes.
Teacher jailed for five years during Inquisition
Arranged around a Renaissance cloister, the old classrooms were considered luxurious for the time. Restored to its original simplicity, one classroom has backless wooden benches barely 8 inches wide. Although they looked quite uncomfortable, the benches were considered a pleasure for the times, Arribas said.
"Before then, students had to sit on the floors," she said.
The ancient rooms also were unlit. But light wasn't necessary for reading or taking notes. Students were expected to listen closely and memorize what was said by teachers.
One darkened classroom was where humanist Fray Luis de Leon once taught during the 16th century when the forces of the Inquisition were hunting down heretics. The Spanish clergy of the Inquisition had scoured libraries and burned books considered unfit.
One of Spain's finest poets, de Leon was also a celebrated theologian and brilliant teacher at the University of Salamanca. When he translated the "Song of Songs" from the Bible into the people's native language, he was denounced as a heretic.
Arrested in 1572 by the forces of the Inquisition, de Leon was thrown into prison where he suffered for nearly five years. When he was finally released, de Leon returned to his classroom greeting students with the words, "As I was saying yesterday…"
Fray Luis de Leon died on Aug. 23, 1591, at the age of 64. His tomb is in the University of Salamanca's Chapel.
How did astronaut carving get on ancient cathedral
Salamanca is a very walkable city and, with only a day here, that was what my group was doing.
Our first stop was at the beautiful Puente Romano (Roman Bridge) crossing the Tormes River. Originally constructed in the year 89, the bridge was reconstructed in the 17th century after it was damaged by flooding. The bridge offers an excellent view of Salamanca's two cathedrals.
Salamanca boasts two cathedrals that are connected side by side. The Old Cathedral was built between the 12th and 14th centuries in the Romanesque style. Built in stages from 1509, the New Cathedral is a magnificent Gothic structure.
But it is an unusual carving on the outside of the New Cathedral that draws a good deal of attention and speculation. If you look carefully, you can see a distinct carving of an astronaut. How was that possible? There were no astronauts in those long-ago days.
"During a 1992 renovation, workers carved the 20th century figure," Arribas said. "But it sure does make people stop, look and wonder if we were actually visited by space beings centuries ago."
Another interesting structure is a former palatial home known as La Casa de las Conchas (the house of shells) that is now a public library. Outside the home are a slew of shell decorations. I thought they might represent the Camino de Santiago whose pilgrims use scallop shells to commemorate their walk.
But the shells on this house are part of a love story, Arribas said.
"The house was built by a husband for his beloved wife," she said. "The scallop shell was the symbol of her family. Her husband had 365 shells put on the outside of the house to show his love for his wife every day of the year."
Plaza Mayor a favorite gathering spot
Strolling through the Plaza Mayor, Arribas told us that the large gathering spot has long been known as Salamanca's community living room. As the most important place in town, Plaza Mayor seems to always be hosting some kind of party or event. When we were there, a music and light festival was going on.
Folks of all ages gather on the Plaza Mayor. Spaniards are fond of taking their paseo (evening stroll) to the Plaza Mayor. College students and young singles gather here to see and be seen. Parents prepare their babies for sleepy time with a walk. Even a pair of storks seem to be people watching from on high.
Salamanca is a favorite with storks who nest atop cathedrals and other historic buildings. The big birds are considered symbols of good luck. The clicking noise storks make remind me of Spanish castanets.
The sun was going down as we left Salamanca and it was easy to see why Salamanca has long been called "The Golden City."
Buildings are constructed of a warm brown sandstone which glows with a golden color at sunrise and sunset. It's no wonder this old city by the river Tormes is now a UNESCO World Heritage site.
Story and photos by Jackie Sheckler Finch