Carnival Sensation Archives - Crown Cruise Vacations
April 25, 2019 | Jackie Sheckler Finch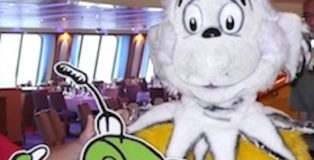 ABOARD THE CARNIVAL SENSATION – Do you like green eggs and ham? How about moose juice or goose juice?
Chances are your children like them. And youngsters know exactly where such creative food came from – Dr. Seuss.
Now children of all ages can enjoy an exciting partnership with Dr. Seuss Enterprises and Carnival Cruise Lines. Read more...