American Harmony Archives – Crown Cruise Vacations
March 12, 2020 | Jackie Sheckler Finch
Are you a movie buff? Like scary stuff?
This trivia quiz has a two-part answer. First, what movie was filmed at this famous Southern mansion? Second, what is the name of the historic house?
Don't look at the answer below until you've formulated your own sweet response. Congratulations, if you are correct. Read more...
February 27, 2020 | Jackie Sheckler Finch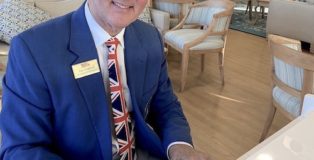 Jon England has never had a music lesson in his life. Yet the self-taught musician has been entertaining cruise ship passengers around the world since he was a teen.
Jon's amazing phonographic memory allows him to play all kinds of music – from classical to show tunes to Big Band and pop, even the Beatles. He also can play a wide repertoire of musical instruments. Read more...