Small Ship, Big Appetite! - Crown Cruise Vacations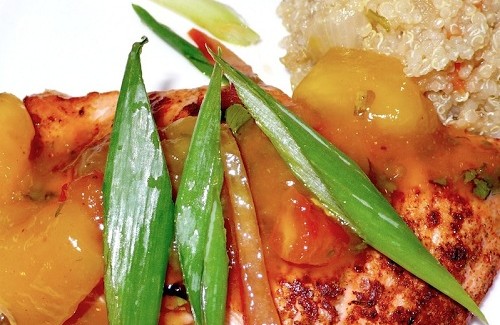 With all the activity on the Wilderness Explorer and the healthy dining options, I am hoping to lose weight on my eight-day cruise. It isn't happening. Don't know how chef Bob Ward and his culinary team prepare all that yummy food in such a small kitchen but they certainly do.
Breakfast and lunch are served buffet style so cruisers on InnerSea Discoveries can get to their activities or can catch the action alongside the ship. Dinner is served sit-down style but even that can change if wildlife has been spotted.
"When it comes to a choice between dinner and whales," chef Bob notes with a grin, "the whales always win."
Early risers can get coffee, juice, cereal, yogurt and pastries in the lounge beginning at 6:30 a.m. Breakfast is served buffet style at 7:30 a.m. Choices included Eggs Benedict, breakfast potatoes, sausage, banana nut French toast, blueberry pancakes, baked ham, cheese broccoli frittata, smoked salmon scrambled eggs, fruit, pastries and some of the best bacon I've ever eaten. I'm picky about my bacon. Much of the bacon served in America is skinny little slices with little taste and too-often undercooked. Breakfast bacon on the ship has some heft to it, along with great taste and it is cooked just right – a little crisp but not burned.
Buffet is served at 12:30 and includes soup, salad, bread, entrée and dessert. Choices have been watermelon salad, beet salad, Asian noodle salad, lemon rice soup, egg drop soup, split pea soup, Tuscan white bean soup, seafood chowder, ginger sesame beef, pasta Bolognese, spinach mushroom lasagna, and cookies.
From 5:30 to 6:30, guests relax at cocktail hour with savory appetizers. Then it's time for dinner. "For dinner, we always offer a choice of meat, fish and vegetarian," chef Bob said. "We ask that you look at the menu in the morning and write on the bulletin board what your choice of meat will be."
Some cruisers find it so hard to make an entrée choice that they choose a half-and-half dinner – half a serving of meat, fish or vegetarian and another half of meat, fish or vegetarian.
Choices include red wine marinated pork chops with Mediterranean salsa, marinated cod, duck breast with port wine cherry compote, eggplant parmesan, sesame encrusted sole, chicken roulade with roasted red bell peppers, roasted pork loin with sweet onion marmalade and Greek chicken pasta orzo.
Oh, my! Now you can see why I am liable to leave the Wilderness Explorer carrying more weight than when I boarded. But what a pleasure it is to dine on this adventurous cruise.
By Jackie Sheckler Finch