Shore excursion: Visiting historic Footdee fishing village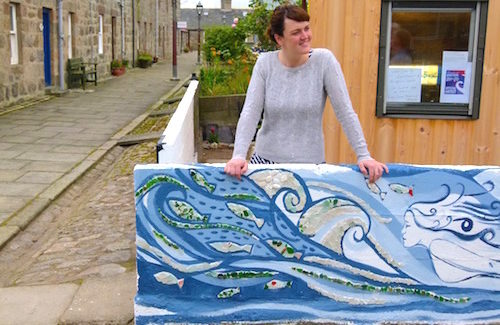 In olden days "fisherfolk" would live in these teeny houses in this tiny two-square village named Footdee, called "Fittee" by locals.
Today, it is mostly inhabited by people who want to get away from the hustle and bustle of the city.
"Footdee is a little hidden gem in Aberdeen," said local tour guide Darryl.
Footdee was founded centuries ago at the mouth of the River Dee. The area has had a settlement as far back as medieval times but the current village was built in the mid-19th century and designed by John Smith, the architect responsible for Balmoral Castle.
In the past, Darryl said, fishwives would sit outside the cottages repairing nets while having a good gossip. The nets would make a colorful patchwork quilt spread on the grass to dry.
"The fisherfolk each had a hut and a patch of land and a shed," Darryl said. "Some fisherfolks still live here today but fishing has declined in the North Sea so Footdee is not just for fishing families anymore."
One of the newer residents is talented artist Shelagh Swanson. She lives in one of the historic houses and has her studio across the lane in a lovely shed. A fulltime artist specializing in painting and glass, Shelagh opened her Footdee studio earlier this year.
A farmer's daughter, Shelagh broke the family farming tradition when she discovered her talents in glass, ceramics and painting.
In front of her studio, Shelagh is creating a decorative mural with "found" sea glass. Other people help gather the smoothed glass tossed ashore by the sea and Shelagh is turning it into a beautiful ocean scene.
Shelagh also created an artistic anchor sculpture erected by the nearby Silver Darling restaurant. The anchor project celebrates this year's 20th anniversary of The Friends of Anchor, a group that raises money for local cancer research.
Shelagh's anchor design features a female figure and was inspired by the area's shipbuilding heritage. Shelagh named her anchor Grace.
"I named it after Grace Darling who was famous for rescuing people from a shipwreck," Shelagh said.
Grace Horseley Darling was a lighthouse keeper's daughter who risked her life to rescue nine survivors from the wrecked SS Forfarshire on Sept. 7, 1838.
The artistic anchor project features 20 anchor sculptures decorated by local artists. The anchors will be on display in Northeast Scotland until they are sold in a fund-raising auction.
Walking through this village out of time, we saw creatively decorated houses, sheds and gardens. In one, a pair of skis permanently stuck in the ground has a stepping stone proclaiming that "Just when I got my head together, my body fell apart."
Another plaque notes that the house was built in the 1800s. "Probably haunted," the sign says. "Sleep tight."
Acknowledging the village's past, the houses and gardens display model boats, seashells, ships in bottles, lighthouses, mermaids, sea critters and other fishing mementoes. It didn't take long to walk through the whole quirky village but it was well worth the relaxing stroll.