Shore Excursion: Visiting Germany's famous Black Forest to hear cuckoos,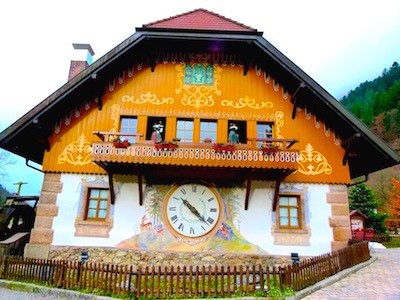 Centuries ago, farm families in Germany's Black Forest would spend winters holed up in their mountain cabins.  Snowed in with few chores to do, the families – often with as many as a dozen children – would pass the time using natural resources they had at hand to create objects for use and to sell for extra money.
"They had plenty of wood," said tour guide Petra. "So they would carve kitchen utensils, shingles for their roof, and other things. Then they learned how to make clocks."
Before long, the simple clocks began to take more ornate shapes. "One farmer decided to make a clock in the shape of his house," Petra said.
Little people were carved for the clocks. A bird was added that would pop out of its door at the appointed hour and trill "cuckoo."
Although the full origins of the cuckoo clock remain unknown, researchers maintain that crafts people of the Black Forest developed primitive cuckoo clocks by at least 1630. Today, clock making is a big business in the Black Forest and we headed for one of the largest workshops to see how the clocks are made and to watch the largest cuckoo clock in the world in action.
First, Petra told us, the popular Black Forest got its mysterious name not from the fact that it is dark and scary. "It's because the conifer trees are so thick and leafy that they block out most of the light," she said. "Those trees never lose their leaves so the forest is always shaded but it is not black. It is really a beautiful place."
Petra was right.
A popular stop on Rhine River cruises, the Black Forest offers dramatic gorges, tumbling misty waterfalls, winding rivers, half-timbered farmhouses and hills thick with fir trees.
                           Turning back the hands of time in the Black Forest
The forest and villages look as though they have stopped the hands of time, giving visitors a glimpse into what ancient Germany might have been like. The Black Forest does have a rich mythological tradition filled with werewolves, witches, fairies and dwarves.
"Legend says that the Brothers Grimm were inspired by the Black Forest when they wrote their stories," Petra said, referring to the authors of Snow White, Cinderella, Rapunzel, Hansel and Gretel, and many more.
The cuckoo clock shop itself is wondrous. All sizes and shapes of clocks are hung on the walls, cuckooing and ticking away. There is even a Harley Davidson cuckoo clock with a couple of big Harleys parked in front of a frou-frou gas station. Priced at 2,329 Euros (about $2,560 in U.S. dollars), the Harley clock is popular with collectors, our guide said.
It was fun visiting the shop but I can't imagine working there. All the noise, I fear, would be enough to drive me cuckoo.
 Story and photo by Jackie Sheckler Finch