Shore Excursion: Vicksburg man starts bottling Coca-Cola, changes soft drink world - Crown Cruise Vacations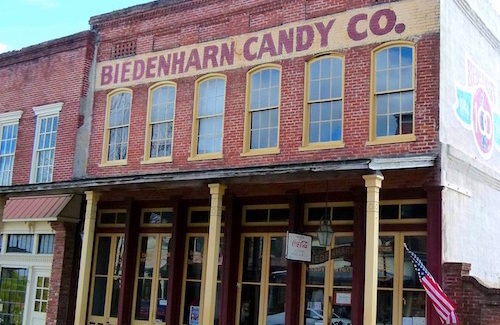 Once upon a time, Coca-Cola drinkers could only get their cold beverage by visiting a soda fountain.
On a summer day in 1894, however, a young Mississippi candy merchant and soda fountain operator changed all that. Joseph Biedenharn had an idea that quickly changed the soft drink industry.
The Vicksburg businessman put the popular drink in bottles so that people anywhere could enjoy it whenever and wherever they wanted.
"Now people could buy their Coke and take it home," says Donna, guide at the Biedenharn Coca-Cola Museum in downtown Vicksburg. "They didn't have to go to a soda fountain anymore when they wanted a Coke. Now Coke is sold all over the world."
Oh, the things you can learn on a shore excursion from the American Duchess. When the boat docked in Vicksburg, I took the hop-on, hop-off Steamcoach to explore the city.
As a nice perk, the Steamcoach is complimentary for passengers and makes its rounds at stops around town every 15 minutes or so. Another service from the steamboat company is that most shore excursions are included in the cruise price, plus most museums allow cruise passengers to visit free.
Exhibits feature Coke history & memorabilia
Opened in 1975, the Biedenharn Coca-Cola Museum houses a wide variety of exhibits detailing the beginnings of Coke, the history of the Biedenharn family, collection of Coca-Cola advertising, shelves of different Coke bottles and a bunch of Coke memorabilia.
Among the exhibits is a reproduction of the equipment first used to bottle Coke and a restored candy store and office area featuring furnishings and displays of the 1890s. The museum is housed in the actual building where the first bottling took place.
The museum also sells ice cream, candy, fountain Cokes, Coke floats and Coca-Cola souvenirs. An ornate onyx soda fountain adds a beautiful historic touch. "You couldn't afford to have an onyx soda fountain like this today," Donna says.
Coke itself was created in 1866 by Dr. John S. Pemberton, a pharmacist in Atlanta, Georgia. He thought it would be nice to have an alternative to bars where people went to drink alcohol. He envisioned drugstore soda fountains as family-friendly gathering places. Coke syrup for the fountain drinks was distributed throughout the South, including Vicksburg.
But Joe Biedenharn noticed that country folks couldn't get to the soda fountains as easily as townspeople. Why not, he thought, put the soft drink in bottles that could be transported anywhere?
How 'soda pop' got its name
At first, the Vicksburg man used whatever bottles he had on hand to bottle Coca-Cola. The early bottles were sealed with a rubber disk that was pushed into the neck of the bottle and held with a wire.
"When you pulled the stopper out of the bottle, it made a popping noise," Donna says. "That's where they say the name 'soda pop' got started."
In order to fight imitators and make the Coca-Cola bottle instantly recognizable, the company decided to settle on a unique bottle design. Ben Thomas, one of the original patent bottlers, said that "we need a bottle which a person can recognize as a Coca-Cola bottle when he feels it in the dark."
The now famous Coca-Cola contour bottle was patented in 1915 by the Root Glass Company of Terre Haute, Indiana. Because of its curvy shape, the bottle was nicknamed the "Mae West" after the voluptuous Hollywood sex symbol.
Photos and article by Jackie Sheckler Finch