Shore Excursion: Revolution Square in Santiago, Cuba, celebrates freedom fighters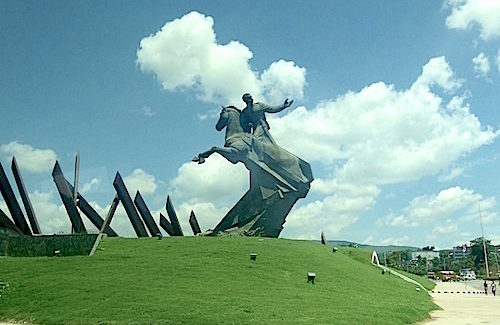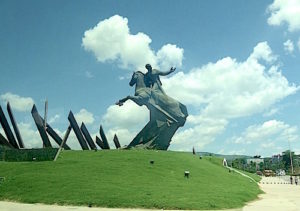 Revolution Square is one of the most popular gathering places in Santiago, Cuba. It was here that Fidel Castro delivered many speeches (including one that lasted nearly eight hours). Pope John Paul II and Pope Francis both held large masses here during papal visits to Cuba.
The most striking feature of the square is a massive dramatic monument dedicated to 19th century war hero General Antonio Maceo with his arm outstretched and his hand beckoning people to follow him.
Twenty-three huge saw-toothed machetes rise from the grass to surround the 53-foot-high sculpture of Maceo on horseback. The machetes represent the date of March 23, 1878, when Maceo issued his "Protest of Baraqua" and renewed the fight for independence.
Maceo was known to go into battle wielding a machete, which was a key weapon of 19th century Cuban independence fighters.
A Jose Marti Memorial with its 358-foot-tall tower also dominates the square. Construction on the square started during the Batista presidency and was completed in 1959, the year Fidel Castro came to power.
Originally called Plaza Civica (Civic Square), the site was renamed Plaza de la Revolucion or Revolution Square after the 1959 Cuban Revolution.
Photo by Jackie Sheckler Finch