Shore Excursion: Man in Sea Museum showcases history of diving ocean's depths - Crown Cruise Vacations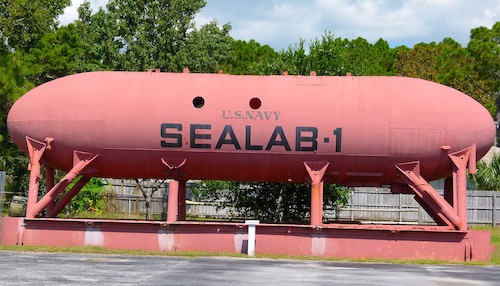 By Jackie Sheckler Finch
More than half a century ago, four Navy divers plunged 193 feet into the Atlantic Ocean for an experiment in living under the ocean's surface. Named Sealab 1, their "home" submerged off the coast of Bermuda was a long cylinder resembling a gigantic tin can.
"Imagine how dangerous it was and how scary it must have been for the four men," said Michael DeGroote. "You have to remember this was five years before astronaut Neil Armstrong set foot on the moon. It was a huge event and what we learned from it was so valuable that it opened up the oceans for exploration."
The groundbreaking experiment lasted 11 days. "The men were supposed to be down there for 21 days but there was a hurricane coming," DeGroote said. "They could have been lost at the bottom of the ocean forever."
Hearing about the dramatic exploits of those sailors is one thing. Standing beside Sealab 1 on the grounds of the Man in the Sea Museum in is another. How anyone could live in such a dark cramped steel container is beyond my belief. And to be anchored below the sea's surface in these claustrophobic quarters shook me to the core.
I had driven by the museum in Panama City Beach, Florida, many times and wondered about the strange contraptions clustered outside the Florida facility. But when I stopped and went inside the Florida attraction, I discovered some fascinating history about man's longtime quest to explore life in the ocean. Operated by the Institute of Diving, the small museum exhibits treasures recovered from sunken ships along with relics from the first days of scuba diving.
                EARLY ATTEMPTS TO EXPLORE OCEAN'S DEPTHS
"I think people have always been curious about the ocean's depth and have always tried to come up with ideas to be able to go down there," museum guide DeGroote said, leading the way around dioramas illustrating some strange attempts to visit the ocean's deep.
One of the earliest recorded "diving bells" was a weird metal tube inserted over a man's body as he was lowered by rope during salvage attempts of Caligula's pleasure galley that sank off Italy in 1531. Then there was the watertight barrel built in 1715 by English inventor John Lethbridge.
With its armholes and glass window, the barrel looked more like a torture device. However, it was successfully used to recover valuables from wrecked vessels.
"But those early divers were always hooked by some kind of line from a ship above," he said. "Later divers relied on a line that would pump air into bulky metal helmets. It always took someone to help you get into and out of those heavy helmets and diving suits. They were so heavy that if you fell over, you would need assistance to get up."
So the success of Sealab 1 and its successors Sealab 2 and Sealab 3 was very important to developments in exploring the earth's waters. After being submerged on July 22, 1964, the four Navy divers on Sealab 1 – LCDR Robert Thompson, Gunners Mate First Class Lester Anderson, Chief Quartermaster Robert Barth, and Chief Hospital Corpsman Sanders Manning – spent six hours a day working on the ocean floor and gathering useful data on the body's adaptation to the watery depths.
Living conditions at the great ocean depths were quite different than on land, DeGroote pointed out. The aquanauts had to breath a mixture of gases including helium in Sealab so they sounded like squeaky chipmunks when they talked. A Navy-produced video at the museum illustrates the physical rigors endured by the four Sealab 1 divers.
           SS TARPON TRAGEDY
Among the other interesting museum displays is one honoring the SS Tarpon. "That ship has historic significance because it used to be a primary way of supplying this area with food, drink and supplies before highways were built," DeGroote said.
Built in 1887, the Tarpon was five weeks short of her 50th birthday when she left Mobile loaded with more than 200 tons of cargo bound for Panama City on August 31, 1937. Although weather forecasters predicted calm seas, gale force winds and pounding water began battering the ship. Less than 10 miles from her destination, the Tarpon began to sink.
The crew frantically donned life jackets and tried to launch lifeboats. But it was too late as the ship lunged beneath the waves. Ship Captain W.G. Barrow was washed overboard. Survivors clung to debris in the water. As the weather cleared, crewman Adley Baker saw land in the distance and decided to swim for it. Amazingly, he staggered ashore west of Panama City after spending 25 hours in the water.
Today, the wreck of the Tarpon is a State Underwater Archaeological Preserve. Established in 1997, the preserve is an oasis of marine life and a popular dive site. The Tarpon is labeled an "Advanced-level Dive" due to depth. A laminated underwater guide is available from local dive shops to orient divers on a self-guided tour of the Tarpon preserve.
"Panama City Beach is a great place for diving," DeGroote said. "We don't have any natural reefs but they've put about 35 wrecks down there that you can dive on."
Leaving the Man in the Sea Museum, I had a new appreciation for those long ago divers and the Sealab men who made it safer and more enjoyable to dive today.