Shore Excursion: How Bora Bora got its name, having a cold drink at Bloody Mary's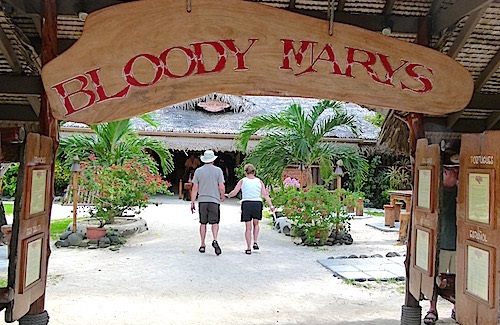 By Jackie Sheckler Finch
If Captain Cook hadn't misunderstood what the French Polynesians were calling their home, the island of Bora Bora might have a different name today.
That's a tidbit I learned from tour guide Sandra as we bounced around the popular island in our open-air "Le Truck" vehicle.
Known as "Romantic Island," Bora Bora was originally named Pora Pora which means "First Born." Legend says this was the first island to rise when the supreme god Taaroa fished it out of the waters.
"When Captain Cook came here, he thought the Polynesians were calling it Bora Bora," Sandra said. "The letter 'B' does not exist in the Tahitian language so he mistook the softened sound of the Tahitian 'P' for a 'B.' They were really saying Pora Pora."
Bora Bora consists of three main villages with a population of about 9,500, most of whom live on the coast. The main road skirts around the island shore line and is about 19 miles long. In the center of Bora Bora are the remnants of an extinct volcano, which has two peaks, Mount Pahia and Mount Otemanu.
Today, the Island of Bora Bora relies largely on tourism and boasts several luxurious resorts with very expensive prices. "Bora Bora was the first to build bungalows that stand over the water using stilts," Sandra said. "These are so popular with tourists that other places started building them."
As we bumped along the road in our tourist truck, Sandra pointed out some of the water bungalows, saying this one was where Leonardo DiCaprio stayed and that one was Marlon Brando's until he bought his own private island.
The main languages on Bora Bora are French and Tahitian but English is also spoken in hotels, markets and other tourist locations. The pace is laid back and relaxing with the philosophy being "aita pea pea" which means "not to worry."
We didn't stop but drove by a ramshackle old World War II military base where the bunkers are slowly fading into the jungle. When Pearl Harbor was attacked, the U.S. military used Bora Bora as a supply base and built defenses along the coast to protect the island against a possible surprise attack by Japan.
Seven huge cannons are scattered across the landscape, quietly rusting in the island sun. Each of the guns is over 20 feet long and mounted on a swivel base.
"The military also built the coastal road on the island and Bora Bora's first airport in 1943," Sandra said, adding that the Motu Mute airport is still used today.
Luckily, no combat took place on Bora Bora. The U.S. military base officially closed on June 2, 1946, although it is said that some American soldiers decided to stay on the island rather than return to their homeland.
Arriving at legendary Bloody Mary's, we were greeted by huge billboards printed with the names of celebrities, athletes, politicians and others who have visited the Bora Bora landmark. The boards were on both sides of the entrance and must have contained hundreds of names.
I'll drop a few of them –  Billy Idol, Charlie Sheen, Steven Tyler, Rod Stewart, Johnny Depp, Keanu Reeves, Janet Jackson, Goldie Hawn, Kurt Russell, James Michener, Sen. John McCain, Harrison Ford, Ringo Starr, Sean Penn, astronaut Buzz Aldrin, Diana Ross and many many more.
Established in 1979 as a small five-table restaurant, Bloody Mary's is named for a character in James Michener's 1946 book "Tale of the South Pacific." The book was the basis for the musical "South Pacific" which was later made into a film in 1958 and in 2001.
The daily catch of local fisherman is a specialty on Bloody Mary's dinner menu. Most requested drink, not surprisingly, is the spicy Bloody Mary cocktail of vodka and tomato juice served at the bar which looks like a thatched hut. Instead of a coat check, Bloody Mary's has a shoe and sandal check. The floors are covered in sand making you feel as though you are walking on the beach.
Handcrafted tables and chairs are made of wood. One long wall of the open-air restaurant is covered with autographed and dated dollar bills plus other paper currencies from around the world. Since public transportation does not exist on Bora Bora, the restaurant offers a complimentary shuttle.
As we climbed back aboard Le Truck, the Rogers and Hammerstein song from "South Pacific" – "Some Enchanted Evening" – kept running through my mind.
This whole visit to French Polynesia has been enchanted. And it has passed so quickly.
Photo by Jackie Sheckler Finch