Shore Excursion: Guards at Tomb of the Unknown Soldier in Athens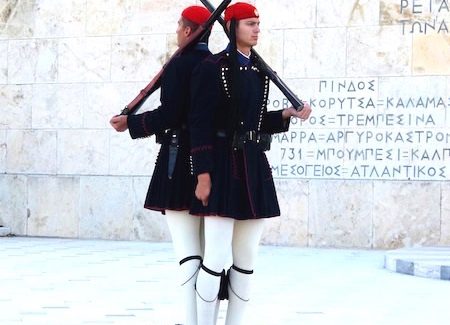 The guards at the Tomb of the Unknown Soldier in Athens looked impressive enough with their ramrod posture and straight-ahead stare. But when the two Greek soldiers started moving, it was obvious these men were self-disciplined almost beyond belief.
It was nearing 85 degrees on my first full day in Athens and the guards known as Evzones at the Tomb of the Unknown Soldier were clad in the traditional Greek uniform of short kilts with 400 pleats – one for every year of the much-hated Ottoman Turk occupation. The shoes on their feet were adorned with pom-poms. Altogether, I am sure this special attire was not very cool but the guards didn't seem to be breaking a sweat.
The unusual uniforms were worn by the klephts – the mountain fighters of the War of Independence so don't let those pleated skirts and pom-poms fool you. These are some tough guys.
It is quite an honor to be chosen as an Evzone. A candidate must be at least 6 feet tall, capable of kicking his leg to shoulder level and able to withstand whatever comes his way without flinching.
My guide said the Evzones' shoes weigh about seven pounds and have anywhere from 60 to 120 nails under their soles. The sound of those nails striking the pavement was very obvious when the Evzone began moving. Tour guide Katia also said the soldiers would hide knives under their shoe pom-poms as another deadly and unexpected weapon in battle.
Every 15 minutes, the guards change positions in a very impressive slow march with highly stylized movements. "Because the guards remain completely motionless and at attention, it is a way of stretching their bodies," Katia said.
Since the guards don't interact at all with the public, an Evzone in a normal fatigue uniform and a police officer ensure that no one harasses the guards while on duty. When they were done with their short march, the guards stood still and silent while the other Evzone officer allowed people to approach and take photos. "But no touching," Katia said.
To show how self-disciplined the two guards are, I was told that during a demonstration in front of the Parliament in 2001, a Molotov cocktail was thrown at one of the wooden guardhouses. Although the guardhouse was engulfed in flames, the Evzone on guard next to it remained in place with his uniform scorched and partly smoking until an officer gave him the order to move.
In January 2010, a makeshift bomb was placed near the Tomb of the Unknown Soldier. Although police informed the Evzones of the imminent threat, the guards refused to leave their posts and remained on guard while the bomb was detonated. No one was harmed but the incident certainly added to the legend that the Evzones are extraordinary soldiers.
Story and photo by Jackie Sheckler Finch