Shore Excursion: Enjoying the Bob Marley Bus Adventure - Crown Cruise Vacations
By Jackie Sheckler Finch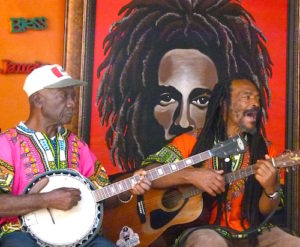 Bob Marley said his music "will go on forever."
His music is indeed still popular and almost four decades after his death, the reggae superstar is a popular draw for cruise visitors to Ocho Rios.
On my Carnival Sensation cruise, each seat was filled on the 28-passenger colorful bus that took us on the "Bob Marley Bus Adventure." The trip lasted almost six hours and cost $94.99 for adults. Only adults were on our trip – for good reason.
The trip was almost two tours in one. First, we journeyed past some villages on bumpy roads for a glimpse of Jamaica that many visitors never get to see. Second, the trip gave us a look at the life and death of Jamaica's famous son, Bob Marley.
The adventure started as soon as we left the Carnival Sensation and boarded the bus. Driver Regan handed us complimentary rum punch through the bus windows. Strong on the rum.
Guide Oshane introduced himself, cranked up the music and we were on our way.  As we rattled along on rough roads on our way to the Bob Marley Birthplace and Tomb in Nine Mile, Oshane gave us background information on the life of Bob Marley. He also warned us that many stories about the singer/songwriter are controversial and conflicting.
Bob Marley died at age 36 from skin cancer. Some of his family and fans, however, believe the reggae superstar was actually poisoned for his outspoken beliefs.
I don't know why but the singer is seldom referred to as Bob or as Marley in Jamaica. In fact, almost everyone I encountered on this tour called him Bob Marley or Superstar Legend Bob Marley.
Bob Marley's father, Captain Norval Marley, was a white sea captain from Liverpool, England, sent to Jamaica to oversee plantations. His mother, Cedella Booker, was a Jamaican. The Englishman, who died when Bob Marley was 10, had no intention of playing a role in his son's life, Oshane said.
Myths often surround a man who becomes a "Legend." And it can be hard to find the truth in all the lore. Such is the case with Bob Marley.
"You hear so many things about Bob Marley and many of them aren't true," Oshane said as we headed off on the Bob Marley Bus Adventure.  "On this tour, we are going to try to set the facts straight."
"That," Oshane said, pointing to a large photo shellacked inside our van of a stern-faced man wearing a dress shirt and tie, "is Bob Marley's father. That is the truth."
DRIVE NOT FOR THE SQUEAMISH
The first part of our trip was a thrilling ride into the mountains. The "roads" are more like zigzag cow paths. The higher we went, the rougher and narrower they got.
"If you are afraid of dying, don't look down," Oshane warned at one point.
In Jamaica, they drive on the opposite side of how Americans drive. "The right side is suicide in Jamaica," Oshane reminded. Pulling a little string to blare a horn, the bus driver barreled safely ahead trailing a cloud of dust and noisy horn blasts.
Leaving Ocho Rios and "civilization" behind, we are seeing the "real Jamaica," Oshane said. Lush greenery. Rolling hills. Shacks. Scrawny goats. Clothes drying on lines. Half-built houses. Friendly people. Immense poverty.
We entered Nine Mile in St. Ann Parish – the birthplace of Robert Nestor Marley on Feb. 6, 1945. "His father was 50. His mother was 18," Oshane said. "His father had two women here, one in Kingston. He didn't stay with Bob Marley's mother."
As our bus pulled into a high-fenced compound run by the Marley family, Oshane alerted us that vendors would try to sell us marijuana and other pot paraphernalia as soon as we stepped off the bus. Oshane's only warning, "Don't bring it back on the bus."
After we went through the obligatory over-priced gift shops, we met our guide Fozzie.  A small museum contained some of Marley's gold records and other awards, plus a guitar. After a steep climb to the top of a hill (this is not a tour for anyone with mobility problems), we saw the Rasta-colored stone pillow on which a young Marley lay his head when seeking inspiration.
Inside the tiny two-room shack was the "single bed" he sang about, the place where Marley spent the first 13 years of his life.
Ignoring cancer diagnosis
A jogger and fitness devotee, Marley injured his toe playing soccer in 1977. When it wouldn't heal, he went to a doctor who said the singer had malignant melanoma – skin cancer. The doctor recommended amputating the toe.
Although his medical records were never made public, Marley did not have the amputation and by the end of 1980, Marley's health began deteriorating at an alarming rate.
While performing in September 1980 in New York, Marley collapsed on stage.  The untreated cancer had spread to the rest of his body, including his brain. Marley underwent controversial last-minute treatment in Germany from a holistic physician. But the reggae star soon realized his cancer was terminal and he wanted to return home.
On the flight from Germany to Jamaica, Marley's condition became so critical that the plane had to land in Miami. On the morning of May 11, 1981, at Cedars of Lebanon Hospital in Miami, Marley died.
The stone mausoleum where he is entombed reportedly with his red Gibson Les Paul guitar, a Bible and a marijuana bud is filled with candles, photos, notes, flowers and other mementos from fans. The singer left a dozen or so children from six or seven different mothers.
Even the guitar that rests in Marley's mausoleum is disputed. Some say it is a Fender Telecaster and that the Gibson is in a museum. Fozzie, however, is emphatic that the guitar resting with Marley is his beloved Gibson.
Controversy lingers after death
The controversy didn't end after Marley's funeral. He died without a will, which spawned court actions for years. The ownership of Marley's body also was disputed. Several years ago, his widow Rita wanted to move his body from Jamaica to her home in Ethiopia.
"The Jamaican government stepped in and said his body couldn't be moved because Bob Marley is a national treasure," Fozzie said.
A strong advocate of freedom and "One Love" for all people, as well as a famed ganja smoker, Marley left behind a lasting legacy and a wealth of music – 104 songs and 21 albums.
I don't know what the poor boy from the slums of Jamaica whose estate grew to the millions would think of the massive mausoleum and all the people who are making money off him, his life and his death.
Marley's last words as reportedly spoken to his son Ziggy were, "Money can't buy you life."
Those words also are disputed. Maybe the truth about this reggae superstar is buried somewhere in all the untruths. And it might not matter anyway.
Bob Marley lived. He died. And his legions of loving fans keep his music, message and memory alive.
Photo by Jackie Sheckler Finch