Shore Excursion: Castillo del Morro in Cuba a chilling experience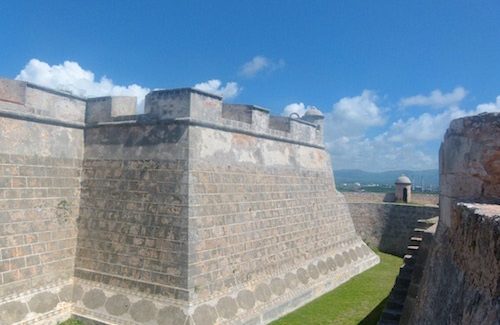 Hearing the loud clank of the metal cell door slamming shut sent chills down my spine. Being locked in this Cuban prison must have been a living hell. Or a death sentence.
Today is a busy itinerary in Santiago de Cuba on our Celestyal Crystal cruise. So much to see and do. Tour guide Ricardo is a wealth of information and his English is excellent.
The fortress on the coast of Santiago looks forbidding but that is what it is supposed to be. Officially named Castillo de San Pedro de la Roca, Castillo del Morro was built as a defense against marauding pirates. The Spanish word "morro" means a rocky promontory and this one is quite visible from the sea. This Santiago fort is not to be confused with Morro Castle in Havana Bay.
The second largest city in Cuba, Santiago was founded in 1515 by Spanish conquistador Diego Velazquez de Cuellar. From 1522 to 1589, Santiago was the capital of the Spanish colony of Cuba.
Santiago also is known as the Cradle of the Revolution because it was here in 1953 that Fidel Castro led his ill-prepared attack on Batista Barracks at Moncado. It took a few more years but Castro did successfully uproot American-backed dictator Batista. Castro gave his victory speech in Santiago.
Walking up to the fort, we passed through a gauntlet of souvenir stalls on both sides. The booths were selling everything from paintings, wood carvings, pottery and books to straw hats, jewelry and T-shirts. I've noticed that Cuban sellers are not pests. They might ask once but a polite "No thanks" usually ends the sales pitch.
One of the most popular images on items for sale is that of revolutionary Che Guevara who was executed in 1967 and has become a counterculture symbol of rebellion.
Built high on an overlook with stunning views of the Atlantic Ocean, Castillo del Morro is cited as the best preserved and most complete example of Spanish-American military architecture. It was named a UNESCO World Heritage Site in 1997.
Crossing the moat, we climbed the fort's stone stairs and learned about the swashbuckling pirates in the fort's pirate museum and the unfortunate souls once imprisoned here. The "punishment cell" barely has room to sit, let alone stand or lie down.
With piracy in decline in the 1800s, the fort was converted into a prison. During the Cuban War of Independence, our guide said that patriots, military personnel and high-ranking civilians who fought for independence from Spanish rule were held in the fort's dungeons. Some never left alive.
Don Emilio Bacardi Mureau of the famed run family was thrown into del Morro's dungeons for helping the rebel guerilla army. Of course, he survived and went on to live a long life, serving as mayor of Santiago and winning a seat in the national senate in 1906. I took a photo of his grave in the same Santiago cemetery where Fidel Castro is buried.
After the fort, we walked to a nearby tavern where cold mojitos were waiting on the bar and the bartender proudly pointed out on the wall a framed white dinner plate, fork, knife and spoon that Paul McCartney used during a 2000 visit. The Beatle also left his autograph.
Story and Photo by Jackie Sheckler Finch