Save up to $900 next summer with lots of amenities on Celebrity Edge! - Crown Cruise Vacations
Save up to $900 next summer with lots of amenities on Celebrity Edge!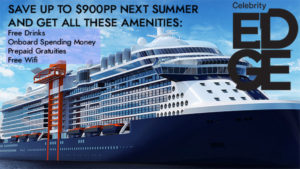 Take advantage of exclusive Crown Cruise Vacations' rates on select sail dates on the new game-changing Celebrity Edge next summer. Save up to $900 per person and enjoy Free Drinks, Onboard Spending Money, Prepaid Gratuities and Free Wi-Fi. PLUS enjoy Complimentary Travel Insurance when you book with your Crown Cruise Vacations expert.
MUST CALL TO BOOK – AVAILABILITY EXTREMELY LIMITED
877-283-1114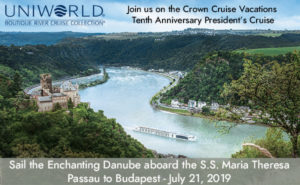 Save on other dates too through April 2020. Contact your Crown Cruise Vacations expert for more information by calling today. Availability is extremely limited. Offer ends October 31.
Ross Spalding, Agency President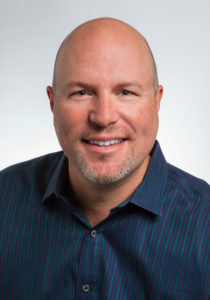 Ten years as one of America's top travel agencies is something worth celebrating. Crown Cruise Vacations is committed to offering our clients inspiring and enriching travel experiences. Next year, join our President, Ross Spalding, and enjoy eight days aboard Uniworld's S.S. Maria Theresa, starting July 21. This isn't just any river cruise experience, it's the Danube, aboard a floating boutique hotel with all-inclusive amenities.
Drinks? Included. So are the transfers, gratuities, your choice of Exclusive Experiences ashore and Shipwide Wi-Fi. Couple that with an artistic approach to fine dining, and you've got something special. After all, you deserve the best.
Sail on our Anniversary President's Cruise with Ross, and you'll receive an additional $250 per person ship board credit, and complimentary travel insurance. We'd love for you to join us, but availability is limited. Call us to book today.
877-283-1114