Regal Princess wine tasting is fun, educational - Crown Cruise Vacations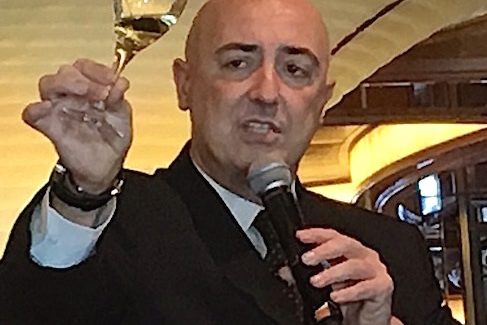 As soon as maître-d Federico Arcos Cantos started talking, I knew I was going to enjoy this wine tasting seminar on the Regal Princess.
"To know about wine is very easy," Cantos said. "If you like it, then you have found a wine that you like and you know about wine."
It is not necessary to be snooty or a well-experienced wine drinker to be able to choose wine, Cantos added. "To be a wine connoisseur, all you have to do is taste wine and read the labels so you know what you are drinking."
But that is an ever-changing goal to accomplish, he said. "There are wineries everywhere now. Did you know there are more than 100 wineries in Texas? Imagine, Texas. Who would have thought?"
That was an interesting comment because I am taking a wine tasting tour in Grapevine, Texas, in two weeks. I'm looking forward to seeing what the Texas wineries offer.
At a price of $9.50 per person, the Regal Princess wine tasting was a fun event in the Symphony Dining Room. Tables were elegantly set with five empty wine glasses, a filled water glass and a snack of cheese, crackers and grapes for each taster.
While the servers poured each wine, our class leader would explain the wine's characteristics, where it came from and what food it might work with best.
The five wines we tasted were Sanctuary Chardonnay from the Russian River Valley in California, Simi Chardonnay from Sonoma in California,  Danzante Merlot from Italy, Giordano Barolo from Piermonte, Italy, and Rex Goliath Moscato from California.
We started with the two white wines, then moved on to the two reds and ended with the sweeter moscato. Here are some of the notes I gathered about the various wines:
Sanctuary Chardonnay  – Fermented in French oak barrels which brings out the bright ripe fruit, vanilla and mineral tastes. "Chardonnay is the queen of the grapes," Cantos said.
Simi Sonoma –  A well-balanced chardonnay with balanced acidity and a generous finish.
Danzante Merlot – Has a deep rich ruby color and warm cherry aromas with accents of mocha, red licorice, sage and toffee. Soft round tannins make this wine easy to drink with flavors of black cherries and plums blended with caramel and toffee from the oak.
Barolo Giordano Tradizione – Brilliant garnet-red color with hints of orange on the rim. The bouquet is ethereal and intense with a typical dried rose scent. Wine has a pleasantly austere taste with elegant tannins and a long bitter cherry finish.
Rex Goliath Moscato – Made with muscat grapes, this is a well-balanced wine with deliciously sweet flavors of peach and apricot.
I don't like white wine but the three passengers sharing my tasting table thought Rex Goliath was the best of our five tastings. With its colorful 47-pound rooster logo, Rex Goliath is the only label I recognized. At my hometown supermarket, Rex Goliath usually costs less than $5 a bottle.
Which just goes to prove what our tasting leader said: "Good wine doesn't have to be expensive. No matter what it costs, if you don't like it, then it isn't worth the price."
Story and  Photo by Jackie Sheckler Finch