Regal Princess adds new hi-tech Ocean Medallion device - Crown Cruise Vacations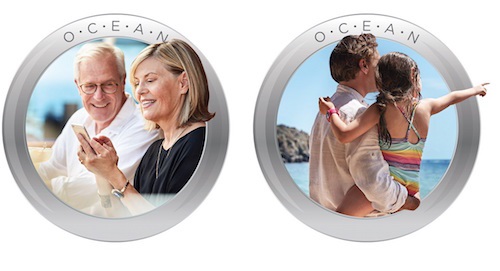 A new wave of technology will be available aboard the Regal Princess on Nov. 13. The Royal Princess and Caribbean Princess will welcome the high-tech gadget in early 2018.
The Ocean Medallion is a wearable device powered by a first-of-its-kind interactive technology platform within the OCEAN – One Cruise Experience Access Network.
The Ocean Medallion has no discernible technology – no on-off switch, no charging, no menu to navigate – and can be worn as a pendant on a wristband in a clip or simply placed in a pocket to reveal enhanced services and personalized experiences without guests having to push a button or take any action.
The pre-cruise engage will allow guests to provide preferences that detail their wants, needs and desires so that their onboard experience can be personalized.
The Ocean Medallion also will unlock a guest's stateroom door, replacing the key card as well as its sign and sail functions.
Pairing with the Ocean Medallion is the Ocean Compass for both guests and crew. The Ocean Compass is a personal digital experience concierge accessible by all guests using interactive displays throughout the ship, on stateroom TVs or via guests' own mobile devices.
For example, guests can find their way to venues around the ship; make reservations at the Lotus Spa, specialty dining restaurant and shore excursions; arrange celebrations; view photographs; learn about the destinations they will visit and activities at each port of call and more. The Ocean Compass via Ocean Concierge will invite guests to experiences based on their individual needs, wants and desires.
"We are in the business of providing our guests incredible vacation experiences that create memories that they will cherish for a lifetime," said Jan Swartz, president of Princess Cruises.
"Ocean Medallion Class will deliver an elevated cruise vacation experience by connecting people, places and cultures from around the world in a more profound way," she said. "The service Princess guests have always loved will be amplified by the Ocean Medallion."
The Ocean Medallion will expedite embarkation as required information is added to the guest profile at home.
A" Here and Now" option will allow passengers to place dining orders and have them delivered to their current location. For example, by using the Ocean Compass, guests can order select food and beverages from a lounge chair and not miss a moment of Movies Under the Stars.
While Stargazing with Discovery at Sea on the top deck, parents can order and surprise the kids with hot chocolate without interrupting a moment of the family fun.
A "There and Then" option will allow guests to place a beverage order and have it delivered to where they plan to be at a designated time. For example, guests wanting to enjoy a glass of wine at the theater can place an order prior to the show and it will be delivered to them at their seat.
An Ocean Navigate option accessed through the Ocean Compass will let guests learn the whereabouts of their family. Friends and family also will be able to easily communicate with each other through seamless messaging service.
Photo courtesy of Princess Cruises