Recipe for Elvis' Favorite Sandwich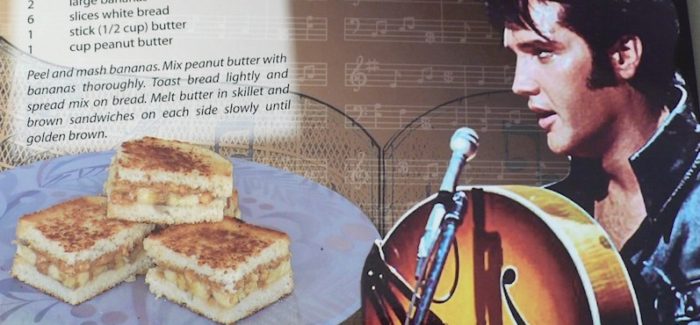 By Jackie Sheckler Finch
Now I know why Elvis loved them so much. I also know that I could easily pack on the pounds if I ate very many of these.
Fried peanut butter and banana sandwiches are not for sissies. They aren't cute little banana slivers atop skinny slices of whole wheat bread with a wispy hint of peanut butter.
Nope. This is the king of all sandwiches — drenched in butter and dripping with enough calories to reduce my dress fit by a whole size.
Take a look at the artery-clogging recipe that I got at Graceland in Memphis. To make three sandwiches (which I have heard Elvis could eat at one sitting), take two large bananas, six slices of white bread, one stick of butter (yep, that's right) and one cup peanut butter.
Peel and squash the banana in the peanut butter. Doesn't have to be gourmet mixing. Just get it smashed enough to spread chunkily. Lightly toast the bread and smear the mix onto it. Melt butter in skillet and brown sandwiches on each side until golden brown. Goes well with a glass of cold milk.
The first time I had one of these treats was many years ago at the best of all possible places to enjoy it — Elvis' hometown of Memphis. The sandwiches are now available at Gladys' Diner in the massively redone Graceland complex. Gladys, of course, was the mother of Elvis.
The Graceland complex also has Vernon's Smokehouse. Vernon, you know, was the father of Elvis.
Although it is not grilled and only has as much peanut butter and bananas as I add, the late-night snack at The Guest House at Graceland is a complimentary buffet of white bread, peanut butter, sliced bananas, strawberry jam and more. Cartons of milk, hot chocolate and coffee also are available.
After making my sandwich and picking up a carton of cold milk, I headed up to my room at The Guest House. Curling up in bed in my nightgown, I turned on the TV to see the final song in the 1968 Elvis Comeback Special – "If I Can Dream."
Now whenever I hear that song, I think of that comfy bed, Elvis on TV and me munching my peanut butter and banana sandwich. Funny how songs can bring back happy memories.
Elvis' Favorite Sandwich
2 large bananas
6 slices white bread
1 stick (1/2 cup) butter
1 cup peanut butter
Peel and mash bananas. Mix peanut butter with bananas, thoroughly. Toast bread lightly and spread mix on bread. Melt butter in skillet and brown sandwiches on each side slowly until golden brown.
Photos by Jackie Sheckler Finch
1. Recipe that I got at Graceland.
2. Peanut butter and banana sandwich plus a Pepsi at Graceland.
3. The Guest House at Graceland offers a complimentary late-night snack.
4. The late-night snack at the Guest House at Graceland.
5. My room at the Guest House at Graceland and my new Elvis socks.