New Disney Ship to be Named Wish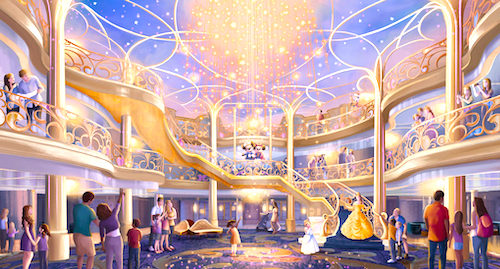 My granddaughter Arianna just got half her Disney wish. When I told her that Disney Cruise line will be launching a new ship, I asked what she would suggest for a name.
"Wish," she said without hesitation. "A Disney Wish, like 'When you wish upon a star.'"
Sure enough, Disney Parks, Experiences and Products Chairman Bob Chapek has announced that the line's fifth ship will be named Wish. The Disney Wish is scheduled for delivery in late 2021 and is expected to set sail beginning January 2022.
"There couldn't be a better name for our incredible new ship because making wishes come true is part of the Disney DNA and is at the heart of so many of our cherished stories," Chapek said in a news release.
A Disney tradition has been to adorn the back of Disney ships with an iconic character that reflects the theme of each vessel. So who was chosen for the new ship?
The Disney Wish's stern will feature the popular Rapunzel. With paintbrush in hand, the artsy princess uses her enchanted hair to suspend herself as she decorates the stern of the ship with the help of her feisty sidekick, Pascal.
"Each Disney Cruise Line ship is unique, with a name that embodies the excitement of sailing with Disney and the power of our stories. The new ship will have the experiences our guests love, as well as all-new magic," Chapek added.
The Wish will feature a bright and airy three-story atrium, inspired by the beauty of an enchanted fairytale.
Now I'm going to have to figure out a way to grant the rest of my 8-year-old granddaughter's wish – to cruise on the new ship, of course.
After all, she reminds me, "Arianna" is the name of the beautiful Disney character who is Rapunzel's birth mother in the 2010 film "Tangled."
"I'm part of the story and the new ship," Arianna said in her closing argument for a cruise on the new Wish. Sounds reasonable to me.
Photos courtesy of Disney Cruise Line
Story courtesy of Jackie Sheckler Finch