Motown Museum Still Has Soul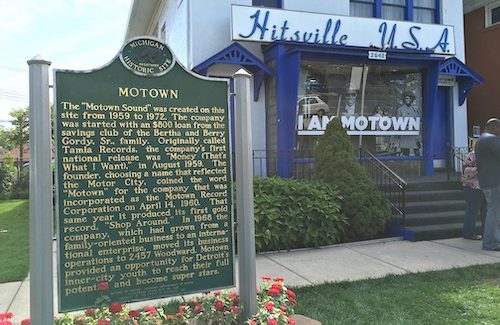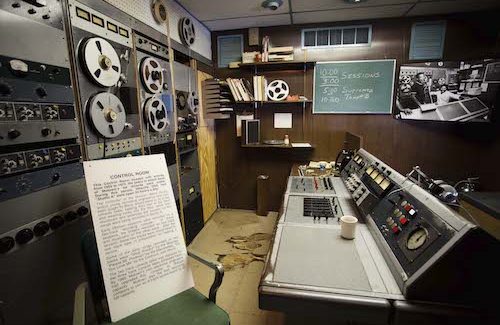 Barbara Kensey thrusts one hand out, palm forward and launches into the words and moves of the well-known Supremes song, "Stop, In the Name of Love."
From an old photograph hanging on the wall, singer Diana Ross seems to look over her shoulder at all the hullabaloo going on. A tour of the Motown Historical Museum in Detroit includes music and lots of it.
"Once it opened, this studio never shut," said museum guide Kris. "It was open 24 hours a day, seven days a week. A lot of good music was made here."
After visiting the Motown Historical Museum a few years ago, I was curious to see how it has changed. It hasn't. That is part of its charm.
"This is the way it was when Berry Gordy was making his recordings here," Kris said, leading visitors in an impromptu Supremes songfest. "It's about as authentic as it can be."
It was at this modest studio that in 1959 a young Detroiter created the sound that would be heard round the world – Motown.
"Berry Gordy was tired of working on the automobile assembly line," Kris said. "He quit his job, borrowed $800 from his family, bought a house and built his studio."
Using his knowledge of assembly-line production, Gordy once said that at the plant "cars started out just as a frame, pulled along on conveyor belts until they emerged at the end of the line – brand spanking new cars rolling off the line."
What he wanted, Gordy said, was the same concept for his company, "only with artists and songs and records… I wanted a place where a kid off the street could walk in one door an unknown and come out another a recording artist – a star."
For the name of his new company, Gordy paid tribute to his hometown, long known as "Motor City." Using "town" instead of "city," Gordy shortened it all and got the perfect name – Motown.
Celebrating the years Motown Records was based in Detroit, 1959 to 1972, the museum preserves the history of the people and the music that roared across the nation as "the Motown Sound." Gordy's sister, Esther Gordy Edwards, founded the museum in 1985.
First stop is an introductory video detailing Gordy's childhood, his stint in the Army, his short career as a prizefighter and his rise as music producer and writer. The small two-story flat on West Grand Avenue was alive and hopping.
"Berry Gordy and his family lived upstairs and he ran his business downstairs," Kris said. "His studio used to be a garage."
Entering a time capsule
Walking into his second-floor apartment is like entering a '50s time capsule. Old 45s are scattered on one of the tables, an orange Naugahyde sofa still has the indentations of numerous rear ends, and a flamingo-pink bathroom completes the kitschy décor, just as when Gordy lived here.
A museum offers a spellbinding collection of old photos, album covers, newspaper clippings, gold records and costumes. The green sequined jackets of the Temptations glow next to the mauve-hued dresses of the Supremes.
By the end of 1966, Motown Record Corporation had expanded from one house to eight houses along West Grand Boulevard. Motown became the first record company to create a traveling show that featured its own artists. Some of those artists went on the tour as unknowns and came back as stars.
For the week ending Dec. 28, 1968, Motown held the top three positions on Billboard's Hot 100 Chart. "I Heard it Through the Grapevine," For Once in My life," and "Love Child" held the No. 1, 2, and 3 positions respectively.
Motown's Detroit-era roster also included such artists as the Four Tops, Stevie Wonder, Gladys Knight and the Pips, Martha Reeves and the Vandellas, Mary Wells, Contours, Jr. Walker and the All Stars, Rare Earth, Commodores, Isley Brothers, Tammi Terrell, Spinners and many more.
If you peek into the control room, you can see holes in the floor under the mixing board where Gordy's feet kept time to the music. For those who scoffed when the young man quit his factory job to pursue his dream – in 1988 Gordy sold Motown for $61 million – Gordy has the final word.
"They thought the Wright Brothers had a stupid idea," Gordy says in a museum quote. "So I say, "Bring on stupid ideas."
Story by Jackie Sheckler Finch, Photos by Jackie Sheckler Finch and Bill Bowen