Memphis: 'Where Elvis Lives' - Crown Cruise Vacations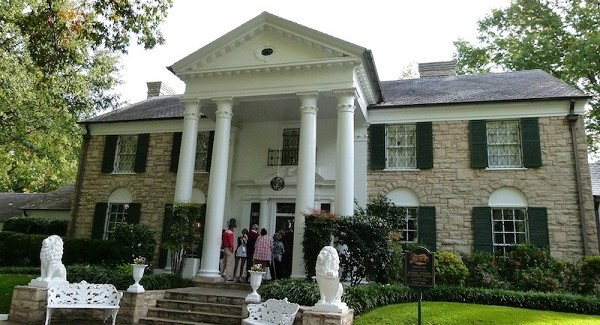 Blog contributor Jackie Sheckler Finch loves river cruising, and recently spent some extra time in Memphis before her American Queen river sailing.
Since Memphis is the American Queen's new homeport and Priscilla Presley is the boat's godmother, I thought I'd visit the home of the city's most famous son when I arrived a day early for my cruise.
"Welcome to my world," Elvis sings as our shuttle crosses the street to enter the musical gates of Graceland. The former home of Elvis is a strange bubble in time.
It is not near as grand as many visitors think it would be. Rock stars and other entertainers have far more elaborate homes today. It is a tribute that Elvis chose to live in his hometown – and he is still a powerful source of income for Memphis area residents.
Remember that the last time Elvis walked through the Graceland doors, it was 1977. Times have changed, a Graceland guide points out. Fashions have changed.
Graceland hasn't.
It is a blend of the '50s, '60s and '70s. It is a poor boy's idea of luxury, a gift the child promised his impoverished parents they would have one day. At age 22, Elvis did just that. Elvis bought Graceland in 1957 for $100,000 in cash after topping his record-breaking music success with the film Love Me Tender. Jailhouse Rock was next up for filming.
Built in 1939 and named for its former owner's great-aunt, Grace Toof, Graceland had 18 rooms and a four-car garage. Elvis set about making it even bigger and better. This was the American Dream come true for Elvis and his family.
Although he hired an interior decorator, Elvis used his own tastes instead. What you see is what he was.
The tour itself is almost ghostly quiet. Visitors with individual headsets listen to tapes of what they are seeing. The tapes feature music and commentary with the voices of Elvis and his ex-wife Priscilla and daughter Lisa Marie seeming to echo strangely from the past.
As the tapes roll, expressions on visitors' faces register astonishment, laughter and sometimes grief. It's not unusual to see tears trickling down some listeners' faces.
The trip starts off across the street at Graceland Plaza, where visitors buy tickets to the Elvis attractions. Access to the mansion is by the Graceland shuttle system operating in the plaza.
"It was his sanctuary," Priscilla says on the tape.
First on the tour is the formal part of Graceland — the foyer, dining room, living room and music room. Not too glitzy, but rather cool and elegant.
The tour continues back outside, past the swimming pool to the racquetball building. It features a two-level lounge and racquetball court on the ground floor. Elvis was in this building just hours before his death.
He had been out for a late-night dental appointment and had come home shortly after midnight. Later on, he and several others played a few games of racquetball and relaxed at the piano in the lower lounge.
Elvis reportedly was anticipating the next portion of his 1977 tour schedule, which would leave the next day. Gathering around the piano with his buddies, Elvis sang "Unchained Melody" and "Blue Eyes Crying in the Rain," among others.
He went back to his private suite upstairs at the mansion. Within a few hours, Elvis lay dead on his bathroom floor.
At the last tour stop, visitors walk quietly through the Meditation Garden. Consisting of a curving brick wall with stained glass windows, a fountain and a semi-circle of Greek-inspired columns, Elvis used the area as a private retreat through the years. It is now where he and his family are buried.
American Queen Steamboat Company sails America's great rivers and you can join in! Contact a Crown Cruise Vacations agent today to learn more by calling 877-283-1114!