Lovely loft suites on American Duchess - Crown Cruise Vacations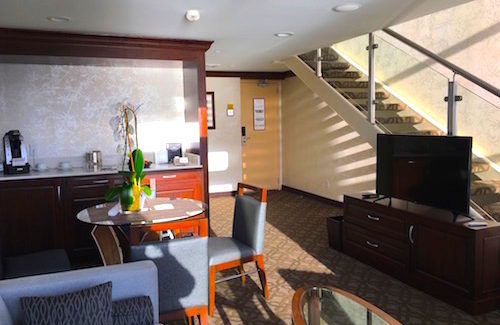 By Jackie Sheckler Finch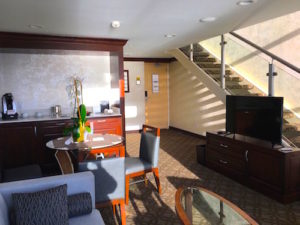 The new Loft Suites on American Duchess are large and lovely. My Loft Suite is huge – 550 square feet. I've been on many boats and ships and this is definitely the largest room I have ever seen.
The three-deck, all -suites American Duchess has four Loft Suites (the first on America's rivers) with private balconies, three top-of-the-line Owner's Suites with private balconies, two Deluxe Suites with private balconies, 44 Veranda Suites with private balconies and 30 Interior Staterooms.
I'm a shower-type person and I'm happy that my Loft Suite has two showers – a walk-in shower in the lower level bathroom and a shower/tub combo on the upper level. Both bathrooms are filled with toiletries by William Roam.
Passengers in the Loft Suites and Owner's Suites have what the American Queen Steamboat Company calls "Commodore Services" and the River Butler. Perks include pre-boarding, a bottle of wine and basket of fruit upon arrival, preferred seating in the Grand Dining Room, reserved seating in the Show Lounge and an invitation to dine with the boat's senior officers.
American Duchess already popular with passengers
On my cruise, the 166-passenger American Duchess has 152 passengers and 87 crew members. My cruise has five solo passengers so the boat is pretty well filled to capacity. The two states for the most passengers on my cruise are Louisiana and Tennessee.
"Easy driving distance," says purser Liz. "But we do get passengers from all over the United States and the world."
Originally built as a gaming boat, the American Duchess underwent an $80 million makeover to create a luxury cruising vessel which was launched in August 2017. With lots of open space, the airy design features a contemporary décor with minimum clutter.
The signature gold, blue and beige carpet was designed by David Kelly. The queen size bed – which can be pushed apart for two twin beds – has a cushioned brown headboard. Four pillows and a downy white comforter look mighty inviting.
Photo by Jackie Sheckler Finch