Love Boat seeking to set record for marriage vow renewals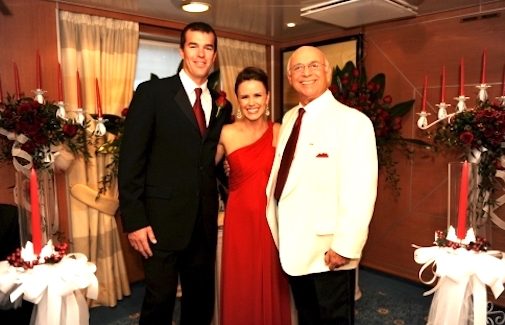 What better place for a wedding renewal ceremony than on Princess Cruises, the original Love Boat. And what better time than during the Valentine month of February when Princess Cruises will attempt to break the Guinness World Records title for the largest multi-location vow renewal.
To make it even more special, couples on the Regal Princess cruise from Ft. Lauderdale to the Western Caribbean on Feb. 9-16 will renew their vows in a ceremony officiated by Gavin MacLeod, the actor who portrayed Captain Stubing on the Love Boat TV series. The popular show ran from 1977 until 1987, plus four three-hour long specials that aired in 1986, 1987 and 1990.
Matron of honor for the wedding renewal couples on the Regal Princess will be another special guest – actress Jill Whelan, who portrayed Captain Stubing's daughter Vicki on the Love Boat.
For couples choosing to renew their vows on the Feb. 10-15 cruise aboard the Royal Princess from Los Angeles to Mexico, the very first couple to marry from The Bachelorette TV show will be doing the officiating. Trista and Ryan Sutter met and fell in in love in 2002 when she was America's first Bachelorette.
"We're honored to officiate this world record title attempt, renewal of vows ceremony onboard Royal Princess, reminding couples about the importance of making time to celebrate romance and their love for one another," said Trista Sutter. "Ryan and I are also celebrating 16 years of marriage this year and know first-hand that a cruise is the perfect way to reconnect with one another."
The Sutters wed on Dec. 3, 2002, drawing more than 26 million viewers, making it one of the most widely viewed episode in all of reality television. The Sutters celebrated their fifth wedding anniversary serving as godparents of Ruby Princess in 2008. The Sutters reside in Vail, Colorado, with their two children, Max and Blakesley.
The mass renewal of vows ceremonies will take place simultaneously on Feb. 11 on the two ships with two official Guinness World Records adjudicators on each ship to verify the record.
Additional romantic touches and activities will be available on both cruises, offering the perfect way to celebrate Valentine's Day 2020.
By Jackie Sheckler Finch, Photo courtesy of Princess Cruises