Let's See Saint John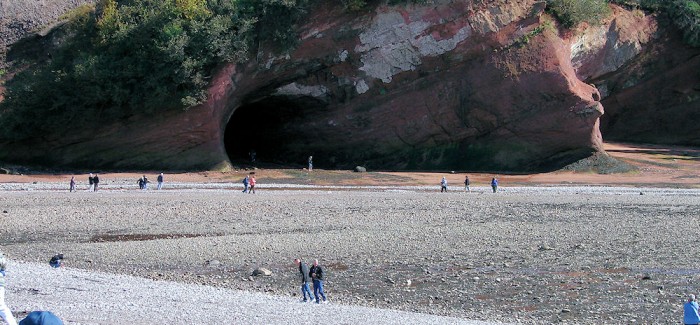 The dog days of summer may be upon us, and the heat may be keeping us in the shade and seeking the comfort of Air Conditioning, but we're still itching to get cruising – and fall foliage is closer than you might think. This means that Canada/New England cruise season is coming close, and we thought we'd share one of our favorite destinations heading up the coast of Atlantic Canada, Saint John.
Saint John is the largest city on the Bay of Fundy, but with just 70,000 people, it still takes on a small town feel. It's got a city center core like most towns, but what we find most appealing is the nature that's on full display. Located a few minutes east of the city, St. Martin's Caves is a spot where travelers can explore the sea like nowhere else. As low tide sets, water completely disappears from this area, allowing people to walk the sea floor with no snorkel needed! Lots of caves have appeared over time against the sandstone walls of the bay, carved over millions of years by the regular ins and outs of the tide. Many of these caves are open for exploration, but the timing has to be right. Get there at high tide, and there isn't much to see – as its completely covered by the bay!
The Reversing Falls is also a neat little thing to behold. There's a narrow gorge, a river feeding the bay and some of the highest tides in the world. Put these three things together, and you've got white water rapids that can flow in both directions within an hour. The way it works is that as the high tide comes in, the force of the tide actually reverses the flow of the Saint John River, but when the tide pulls back, the water level gets so low that the river starts feeding the bay at a thunderous clip. Its a neat thing to watch for sure.
The more adventurous can do more than just watch, as there are adventure tour companies that can give people the chance to ride the rapids going in or out of the river.
Saint John is just one of many amazing destinations in Atlantic Canada, and can be seen from cruises that leave out of New York, Bayonne, Boston and Montreal. Most cruises leave in the autumn, and they can be as short as four days in length, so there are good deals to be had any time of year.
Start planning your fall getaway today! Take a look at the Canada/New England cruises available by clicking here!