Legendary prizefighter John L. Sullivan honored at new facility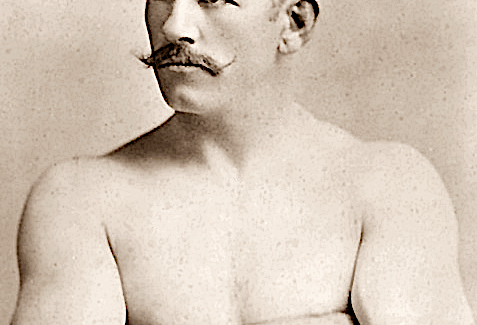 By Jackie Sheckler Finch
The plaster cast of a muscular arm is a sure attention getter at the new Historic New Orleans Collection. Although the facility includes a wealth of historic memorabilia, it was the arm that made me stop.
I remember my Dad talking about the famous prizefighter John L. Sullivan and here was the plaster cast of Sullivan's legendary arm made in July 1889.
First, some information about the Historic New Orleans Collection itself. Founded in 1966, the Historic New Orleans Collection includes 13 historic buildings on three French Quarter campuses. The new exhibition center at 520 Royal Street opened in April 2019 after a $38 million renovation of the 1816 Seignouret-Brulatour mansion. The building also once served as home to the city's first television station, WDSU.
In addition to traditional museum exhibits, all of which are free and open to the public, the new facility features dynamic interactive displays, a large gift shop and Café Cour.
"We have an archive of more than 1 million items," said Eli Haddow, marketing associate for Historic New Orleans Collection. "This new facility gives us the ability to tell stories with some of these objects."
Featured in the exhibit "Crescent City Sport: Stories of Courage and Change," the story of John L. Sullivan notes that New Orleans was at the center of the sporting world in the 1880s and 1890s, thanks to the prizefighter known as the "Boston Strong Boy."

Most states prohibited prizefighting in the early 1880s—and though the Deep South was no exception, the region had a reputation for looking the other way when such laws were broken. In February 1882, far-flung journalists and well-heeled fight fans, some of ill repute, descended upon New Orleans in anticipation of a bare-knuckle bout—at an undisclosed location outside city limits—between the 23-year-old Sullivan and world champion Paddy Ryan.
On the morning of Feb. 7, the crowd boarded a train bound for the Barnes Hotel in Mississippi City, now part of Gulfport, where a throng of about 1,500 spectators watched the Boston Strong Boy claim the heavyweight title.
Sullivan emerged as one of the nation's first sports superstars and followed up the Ryan fight with a series of lucrative barnstorming tours, becoming a bona fide celebrity along the way. He traveled to New Orleans again in the summer of 1889 and successfully defended his title at a lumber mill near Hattiesburg in an epic 75-round match with Jake Kilrain.
The illegal fight led to arrests for both fighters, compelling Sullivan to vow never to fight bare knuckle again, essentially concluding a brutal era for the sport. James Corbett finally put an end to Sullivan's reign in a legal match with gloves at the Olympic Club in New Orleans on September 7, 1892.
Sullivan's fights in and around New Orleans made the city, in the eyes of many throughout the nation, synonymous with big-time sporting events.