Iceland ProCruises expedition leader gives a musical welcome Ocean Diamond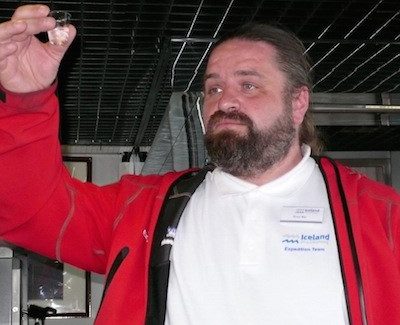 By Jackie Sheckler Finch

It felt like one of those episodes of "American Idol" where someone is standing on stage, then starts singing. And you can hardly believe your ears.
Well, that's what happened on our first night aboard the Iceland ProCruises Ocean Diamond. It was an evening gathering to meet the ship's expedition team and learn about life onboard and our interesting itinerary.
Then expedition leader Örvar Már Kristinsson opened his mouth and started to sing. The guy really has a powerful voice. I couldn't understand a word he was singing because it was in Icelandic but it was easy to understand that he can really sing. I think he said it was a welcoming song.
Each evening we met with the expedition team in the theater to review what we had done that day and to learn what we would be doing the next day. We also received a daily program in our cabin every evening at turn down.
We were in a different port every day and had a choice of several shore excursions. Also there were afternoons when the Zodiacs on board were used for bird watching or to go ashore on small islands.
The Ocean Diamond can carry 224 passengers and 105 crew members. On our cruise about 60 percent of the passengers were German. The rest were mostly American, British, Scandinavian and Canadian.  All announcements were made in German and English, as were shore tours. Whenever possible, the shore excursions were arranged with one bus for German and one for English so the guide didn't have to give the same spiel in two different languages.
Only one child was on our cruise with his parents and grandfather, who owns a tour company. I didn't know his age but Iceland ProCruises requires that children must be at least eight years old to be on a cruise. He was a very well behaved and charming child.
Photo by Jackie Sheckler Finch