Horse racing superstars find forever home at Old Friends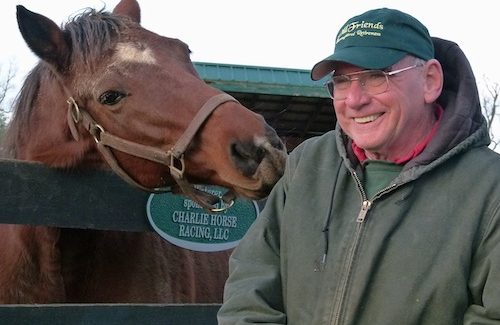 By Jackie Sheckler Finch
With a hint of his once amazing speed, Afternoon Deelites races to the fence when he spots Michael Blowen. In a nearby paddock, Special Ring tosses his head back and raises his upper lip to show his racing tattoo.
And beautiful Silver Charm nuzzles Blowen's shoulder while the founder recounts stories of the racing superstars who now live at Old Friends Thoroughbred Retirement Center in Georgetown, Kentucky.
"Some of these horses are like your best athletes. They gave everything to the sport," Blowen said. "For me, it's like having Larry Bird in my backyard."
Every one of the more than 150 equine residents has a story to tell. Popcorn Deelites is a movie star, one of six horses who starred as Seabiscuit in the movie.
Owned by composer Burt Bacharach, Afternoon Deelites descended from Secretariat and earned $1 million. Bred in Kentucky, Special Ring won more than $900,000 before returning to Bluegrass pastures in August 2005.
But not every thoroughbred has been so lucky. Once a horse has outlived his earning potential, the future can be grim.
"What happened to Ferdinand never should have happened," Blowen said. "That's why we are here – to make sure it never happens again."
Ferdinand's tragic end
Winner of the 1986 Kentucky Derby with legendary jockey Willie Shoemaker, Ferdinand went on to capture the 1987 Horse of the Year title with a dramatic victory over 1987 Derby hero Alysheba in the Breeders' Cup Classic. As a racehorse, Ferdinand amassed an unbelievable $3.8 million – then the fifth leading money winner of all time.
Despite his fame, Ferdinand died in 2002 in a Japanese slaughterhouse.
"It made me sick," Blowen said. It also made him determined that no other thoroughbred should ever meet such a tragic end.
Ferdinand's death was an important catalyst for the success of Old Friends. Founded in 2002, Old Friends along with supporters and horse owners has repatriated six horses from Japan as well as rescuing many other thoroughbreds.
On a cold winter day in 2014, Blowen said it was "a dream come true" when his long-sought-after Silver Charm finally arrived at Old Friends. "Silver Charm is like Elvis. He's a huge celebrity," Blowen said. "I've tried to bring him home for a long, long time."
Winning the 1997 Kentucky Derby and Preakness Stakes, Silver Charm racked up almost $7 million in race earnings. He retired to stud at Three Chimneys Farm in 2000. Then he was sold to the Japan Bloodhorse Breeders Association for stud in 2005. His progeny includes 308 winners with total race earnings of $27,228,387.
But Silver Charm was sold to the Japanese with a very important buy-back clause in his contract. Three Chimneys and former owners the Lewis family set up an endowment to ensure Silver Charm's long-term care and helped arranged his retirement to Old Friends.
Although he didn't show signs of jet lag on that long arrival day, Silver Charm traveled from Hokkaido, Japan, to Anchorage, Alaska. Then he flew to Chicago before a final van ride to his forever home in Kentucky.
"Coming here is the equine equivalent of retiring and living on a golf course," Blowen said. "Except they eat the greens."
GETTING TO KNOW RACE HORSES
So why did a retired Boston Globe movie critic decide to spend his time and money tracking down former racehorses and creating a retirement home for them? "I fell in love with horses," Blowen answered simply.
Born in 1947, the New Englander didn't become a horse fancier until he was in his 30s when a Globe editor invited him to a Massachusetts track. Blowen was hooked. Hoping to improve his horse knowledge, Blowen asked trainer Carlos Figueroa if he could use a free helper.
For several years, Blowen groomed horses and walked them in his off-work time. He also discovered the dark side of racing. Instead of being retired to green pastures when their working days were done, many of the horses were slaughtered. The racers won Blowen's heart and he vowed to help save them.
When the Globe offered an early buyout to cut staff in 1999, Blowen and his wife, columnist Diane White, took it. Moving to Kentucky, Blowen set about convincing horse breeders and owners of his Old Friends plan. Starting on some loaned acreage, Old Friends bought its own home, Dream Chase Farm in 2006.
The farm's first retiree was the appropriately named Narrow Escape. The horse had been put up for auction, then abandoned when no buyer stepped forward. Narrow Escape spent her final years at Old Friends, dying at age 26 in 2009.
About 20,000 visitors a year take a $25 guided walking tour of Old Friends. Tours are about 90 minutes long. Other people organize fundraisers and donations to help feed and provide medical care for the horses.
One of the most popular with visitors of all ages was Clever Allemont, a race winner until his legs gave out. One-eyed and deaf, the aging stallion was rescued in December 2008 from a kill pen in Kansas on the way to slaughter. "He inspired people because he overcame hardship and enjoyed life," Blowen said.
Clever Allemont died at Old Friends on May 26, 2014, at the age of 32. He is honored along with other former residents in the Old Friends backyard cemetery. Before he joins his old friends in the great hereafter, Blowen said he still has an important goal to achieve.
"We have a long, long waiting list of horses who want to come here and deserve to come here," Blowen said. "We just have to come up with more income so we can take them… I would like to die with no waiting list, with a home for every thoroughbred."
For more information: Contact Old Friends at (502) 863-1775 or www.oldfriendsequine.org
Photos by Jackie Sheckler Finch
Photo cutlines:
1. Popcorn Deelites looks for carrots from Michael Blowen.
2. Michael Blowen welcomes long-awaited Silver Charm to his new home at Old Friends.
3. Some racehorse superstars like Creator live out their final days at Old Friends.
4. A backyard cemetery honors former residents at Old Friends.