Holland America shares tips for cake decorating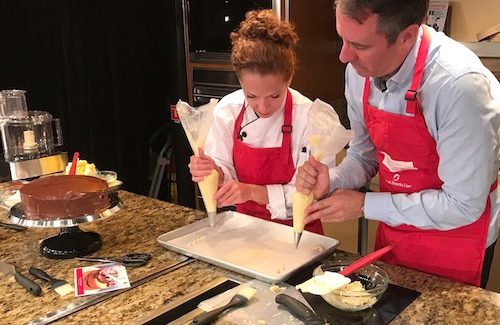 By Jackie Sheckler Finch
I've long admired the beautiful cakes served aboard Holland America cruise ships. Of course, I didn't admire them too long because I ate them.
Not only were they gorgeous to look at, they also tasted divine.
So I was interested when Holland America shared some tips for cake decorating in an onboard cooking show. Through a partnership with America's Test Kitchen, Holland America also offers hands-on workshops in onboard culinary facilities where guests can learn techniques and recipes for creating the cruise line's culinary delights.
Here are some tips Holland America for making beautifully decorated cakes at home. And the tips actually work. I've tried them myself and even bought a pastry bag so I could create the special flourishes.
Don't refrigerate the frosting. If it's chocolate frosting, it will dull the chocolate, and if it's butter cream, it will make the frosting too hard to pipe out of your pastry bag.
Don't overfill your pastry bag. It makes it difficult to work with.
When using a pastry bag to apply frosting, use just one hand to put pressure on the top. Squeezing with two hands can cause air pockets to develop or the frosting will come out of the top instead of the tip.
Especially for chocolate frosting, use corn syrup instead of sugar and butter. Corn syrup gives the frosting a nice glossy sheen and makes it more spreadable.
A word on corn syrup: Corn syrup gets a bad rap because people are afraid of hydrogenated fats and high-fructose corn syrup, which are bad for you. But the kind of corn syrup used in baking is the same stuff your mother and grandmother had in their pantry. It's used in all kinds of baking as a sweetener and for its other properties, and it is no worse for your health than sugar.
Photo courtesy of Holland America Line