Grand Classica Offers two-night Bahamas Getaways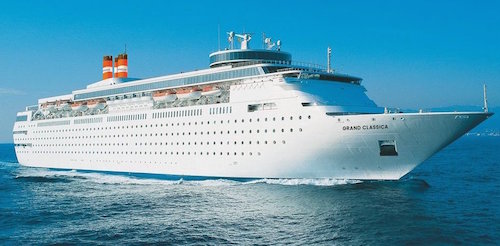 Not able to take a week or more off work for a cruise? Don't want to spend a ton of money for a cabin on a spiffy new ship?
The Grand Classica has a deal for you.
Launched in 1991, the ship joined Bahamas Paradise Cruise Line in April 2018. With 216 inside rooms and 430 ocean view rooms, along with two junior suites, the ship has a guest capacity of 1,680 and 590 crew.
Stepping on the Grand Classica is like traveling back in time to an era when cruise ships were less about outrageous attractions like go-carts and sky diving simulators and more about relaxing and watching the ocean roll.
A return to a time when passengers yearned to get away from the daily grind and enjoy leisurely shipboard meals and learn more about themselves, other places and other people.
Updated in 2014, the Grand Classica décor is understated elegance with real Murano glass decorations and many roomy spaces where passengers can socialize or can be alone. A popular spot, the Encore Lounge is huge with large comfortable chairs and sofas, plus handy tables for drinks and snacks.
The stately ship pays homage to its Bahamas destination with decks named after islands in the Bahamas – Bimini, Paradise, Abaco, Eleuthera, Andros, Exuma, Rum Cay and more. The main dining room is named The Yellow Elder Restaurant after the national flower of the Bahamas.
The Grand Classica sails on two-night cruises to the Bahamas. It's particularly perfect for someone who might want to try ocean cruising without spending a lot of time or money. Some cruise specials are priced at less than $200 per person for an inside cabin.
"You couldn't get a nice hotel room for two nights for that," said passenger Mary Ellen Thomas of Miami. "Plus, that price includes delicious meals, entertainment and a chance to visit the Bahamas."
CRUISE AND STAY OPTION
Bahamas Paradise Cruise Line also offers the wonderful option of combining a cruise with a luxurious Bahamas beach resort stay. The combo allows cruise ship passengers to sail aboard one of the two Bahamas Cruise Line ships. Upon arriving at Grand Bahama Island, cruisers can stay at a Bahamas resort for several days, then board the ship to cruise back to West Palm Beach.
Attractions on board the Grand Classica are the Par-A-Dice Casino, Indulgence Spa and Lucaya Plaza shopping area. The shops carry a wide selection of watches, jewelry, clothing, toiletries, hats, cigarettes, alcohol and souvenirs. Remember that ship shopping is tax and duty free.
The ship has an Oasis adults-only area with a pool, two whirlpools and a bar surrounded by lounge chairs. The ship's main Plunge Pool has a larger pool surrounded by a roomy deck and lounge chairs. A jogging track above the pool area is a popular way to exercise while enjoying wonderful ocean views.
The Grand Classica also has a Card Room, Library, Fitness Center, Salon, Photo Gallery (with roaming photographers to capture cruise moments and studio spots for more formal photos), Internet Café, Conference Room, more than half a dozen drink venues and the huge Legends Grand Theatre.
The Central Atrium on Deck 5 is the main hub for booking shore excursions, making reservations and getting assistance from guest service team members. For children, there is Kruzer's Club (ages 3-6), Club Chill (ages 7-12) and Vibe Club (ages 13-17).
Story by Jackie Sheckler Finch