Grand Classica Cruise: Try Different Dishes is Fun on Cruise Ship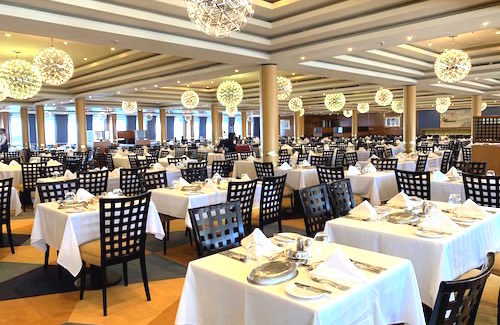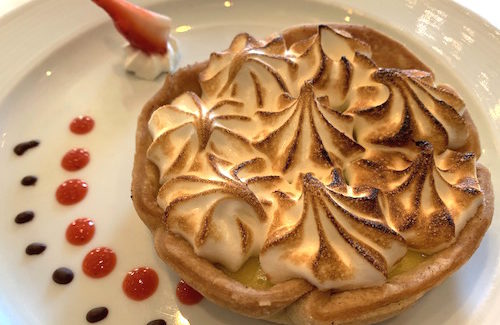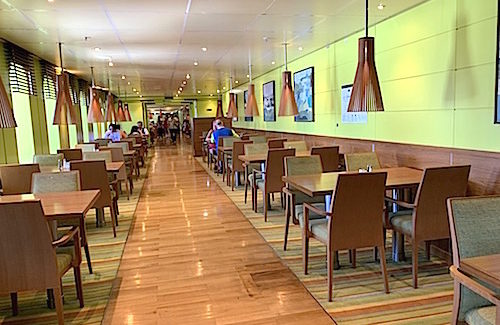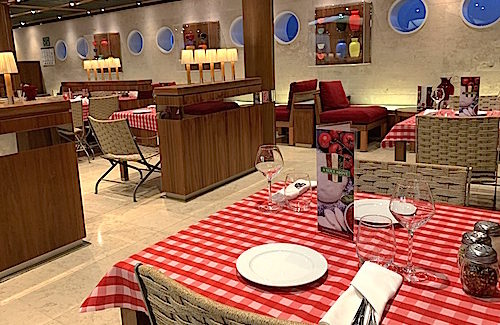 ABOARD THE GRAND CLASSICA: Will it be black pepper crusted ahi tuna or Atlantic salmon or stuffed chicken breast or boneless beef short ribs braised in Merlot?
Those who know me have no doubt what I chose.
Yep, it was the boneless beef short ribs braised in Merlot with creamy mascarpone polenta and root vegetables.
I don't eat chicken unless I have to, but the woman at the next table said her chicken entrée was very good. I'm sure both the tuna and salmon were delicious choices, as well.
My short ribs were great. However, that is only part of the yummy meal I had my first night aboard the Grand Classica. I dined in the main dining room, the Yellow Elder Restaurant which is named for the national tree of the Bahamas.
For appetizer, the choices were shrimp avocado cocktail, butternut squash ravioli, harvest corn chowder with chorizo, roasted tomato bisque, watercress and endive salad or steakhouse salad.
My choice was the harvest corn chowder with chorizo and it was wonderful – creamy and loaded with corn and spicy sweet chorizo.
Three vegetarian entrees are featured on the menu each night. On my first cruise dinner, the choices were vegan red lentil penne with Thai coconut curry and stir-fried vegetable or saffron rice with curried yellow split peas, aloo parantha, papadum and mango pickles raita or baked zucchini boats with ratatouille, polenta cakes and plum tomato basil sauce.
For an extra fee, passengers can order premium steaks and seafood. Choices included 12-ounce Delmonico steak for $17.50, a 9-10 ounce steamed or broiled lobster tail with drawn butter sauce for $19.95 or a 6-ounce filet mignon with a 6-ounce Maine lobster tail for $27.50.
Those extra fee entrees included two sides, either creamy steakhouse spinach, young harvest vegetables, truffle steak fries or baked or mashed potatoes. Steak sauces were cognac green peppercorn, béarnaise or maître d hotel butter.
PLENTY OF PLACES TO DINE ON SHIP
But the Yellow Elder Restaurant isn't the only place to dine on Grand Classica.
There's the Ocean View Buffet, the grill, Grand Café Gelateria (extra charge), A Slice Above Pizza (extra charge), The Bull (extra charge), The Rock Grill (extra charge) and Admiral's Steak & Seafood (extra charge). A self-service ice cream machine is outside the buffet.
Since this is only a two-night cruise, I didn't make it to all the dining spots. I ate basic breakfast at the grill on our only full day aboard ship. It was fine.
I ate lunch at Ocean View Buffet the only full day aboard ship. The buffet was cafeteria-style food. It had a pasta station, salad bar, desert bar and entrée station with several entrees and some cooked vegetables, plus a rice dish and mashed potatoes and bread.
But remember this cruise costs less than $200 per person for the whole shebang.
Usually, on cruise ships I like to eat breakfast and lunch in the buffet where I can sit and watch the ocean roll. Most buffet areas have huge windows with spectacular views. The Ocean View Buffet, however, does not offer ocean views. Sitting at one of the inside buffet tables gives you a view of lifeboats stored outside the windows.
I easily solved that by filling my buffet plate and heading outdoors to the Rock area which does offer wonderful ocean sights. Part of the Rock is covered with a roof and part isn't so you can choose to sit closer to the ship rail in the sun or sit closer inside protected from the sun. Both are pleasant.
Folks who ate at the specialty restaurants said the food was good and well worth the price. The Bull is known for its burgers, chicken wings and fried shrimp.
The Rock Grill is a fun dining concept that involves cooking fresh meat and seafood on volcanic stone slabs, sealing in juices and flavors. A Slice Above Pizza has a warm Italian-style décor and Italian menu.
SHIP STAFF IS EXCELLENT
As with all the ship employees, the serving staff in The Yellow Elder Restaurant is top-notch. When I arrived at the restaurant for dinner the second night, I was asked if I wanted the same table since I had mentioned the previous night that I liked being able to see the ocean.
The Grand Classica has plenty of tables for large groups, for couples and for solo travelers like me. Not all cruise ships like to seat one passenger at a table. Sometimes I like to eat with a group of strangers and sometimes I don't. I really appreciated that option on the Grand Classica.
Sommelier Nebojsa quickly arrived, greeted me by name and asked if I would like the same Barnard Griffin Sabernet Sauvignon that I'd had the night before. Definitely.
Don't know how ship employees remember all our names. My stateroom attendant called me by name the first time I saw him. I can sort of understand that. He knows if I am checking into Stateroom 6085, then I must be Jacqueline Finch. But he also greeted me by name when he saw me elsewhere on the ship.
On a two-night cruise seems like we just get on the ship when it is time to get off, so ship employees must have great memories.
Restaurant servers also are very observant. If my water glass got low, someone was there to fill it. When I left a bit of my short ribs, server Yadi asked if the entrée was not to my liking. Yadi said that he would gladly bring me a different entrée instead.
Nope, the ribs were delicious, but I knew dessert was coming – lemon meringue tart, banana fondant, vanilla panna cotta or ice cream or sherbet. I had the wonderful lemon meringue.
A man at the table next to me ordered escargot. His wife chose Bahamian seafood chowder. And they shared. Both had never had either of those dishes. They weren't crazy about the escargot but said they really liked the chowder.
That's a fun thing about cruises – a chance to try something we may not normally eat at home.
Photos and story by Jackie Sheckler Finch