Eurodam's Library an Open Book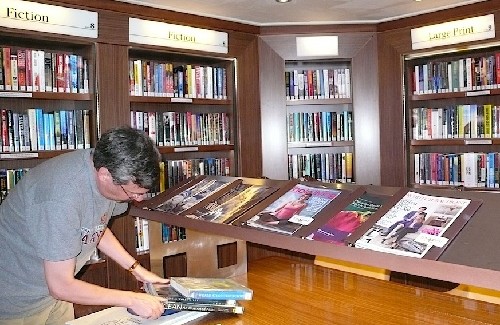 I've loved libraries since before I could read. So I am always pleased when I encounter a new library – especially in a place I never expected to find one.
I knew that the Eurodam cruise ship would be beautiful. All of the Holland America Cruise Line ships are lovely. But I never knew the Eurodam would have such a large library.
"That is one thing that sets apart the Holland America Line from other cruise ships," said librarian Kat Hanold.
That's right – the Eurodam has a librarian. And a library with more than 4,000 books, plus a "take-one, leave-one" section where passengers can exchange a read once they are done with it.
Bookcases around the spacious Explorations Café include categories of bestsellers, travel, classics, science, biography, leisure, history and fiction. The library also offers large-print and audio books, magazines, shipboard newspapers and computers. Operated in partnership with The New York Times, the Café has a coffee bar, complimentary snacks, games and puzzles.
And the whole shebang is not hidden away in some unpopular location. It is at the top of the ship in a large space with massive windows and a panoramic ocean view.
"It's the perfect place for a reading room and the selection of books is really great, " said George Laney, checking out "The Drop" by Michael Connelly. The guest from Naples, Florida, has already read two books and thinks several more are in his future for this cruise.
"The variety of selections is very good and it is easy to find something you are interested in," he said. "I'm surprised at what great shape the books are in and that they are hardback books."
That's because damaged or marked-up books are quickly removed, Kat says. And shipments of best sellers arrive every three months. "We try our best to keep up with the best sellers," Kat said.
On longer cruises, the ship also offers a book club. "We pick books that have something to do with the cruise, the places we are visiting," Kat said. "For example, when we did the Panama Canal, we read 'Water Like Chocolate' and when we went to Antarctica, we read 'Arctic Chill.' We always make sure that we have plenty of copies of books for the book club so the passengers can read it and discuss it."
A resident of Madison, Wisconsin, Kat said she applied to work for Holland America two years ago at the urging of a friend and was pleased to be hired as librarian. "It's a great opportunity," she said.  "I have seen places all over the world that I never thought I would see."
By Jackie Sheckler Finch

Check out all the great options that the Eurodam has in the next twelve months. Click here to start planning your journey today!