Disney Cruisers Collect Autographs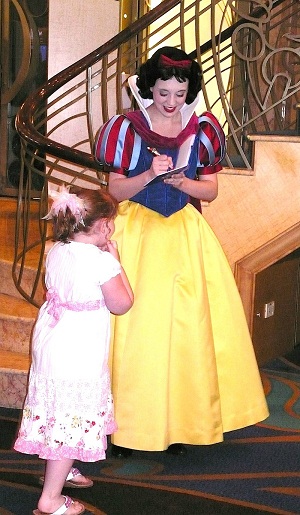 Clutching her official Disney autograph book, 5-year-old Dawn Stevens waited in her beautiful Cinderella gown. What made the stars in her eyes and the patient smile on her face?
"I'm going to get an autograph from Snow White," the youngster said. "This will make almost 10 autographs that I have gotten."
Since I don't have any little ones in my home anymore, I was surprised to discover how many children are Disney character autograph collectors. It is really a big deal on my Disney Wonder cruise. Little girls especially dress up in their Disney character finery and wait to catch an autograph of their favorite character and then to be photographed together.
"I've got 24 autographs," Amber Thompson said, flipping the pages of her autograph book while she waited for her turn with Sleeping Beauty. Clad in a miniature ball gown with a tiara on her upswept hair, the 8 year old from Houston said she had gotten a head start by getting autographs at Walt Disney World. By the time the cruise is over, Amber says, she hopes to have a filled book.
"Next I'm going to look for Captain Jack Sparrow," she said, while her parents looked on and nodded in agreement. Youngsters are welcome to shake hands, share a warm hug, post for photos and get a special hand-written greeting.
Of course, most young cruisers are on the lookout for major characters Mickey and Minnie Mouse. But they also watch for Peter Pan, Alice in Wonderland, Donald Duck, Goofy, Pluto, Captain Hook, Belle, Ariel and many more.
In fact, I've seen children eagerly scanning the Personal Navigator – the Disney Cruise Line daily newsletter – to learn where their favorite Disney characters might be seen that day.
"My granddaughter has been talking about this cruise for years," said Robert Hamilton of Tampa, watching 9-year-old Elizabeth share the signatures in her autograph book with a friend. "Now I think she will be talking for many years about what a great time we had. It's a really special trip."
By Jackie Sheckler Finch
Book your next Disney cruise today! Click here to find out the latest dates and availability!