Cruise Trivia: Why is this spot famous & where is it located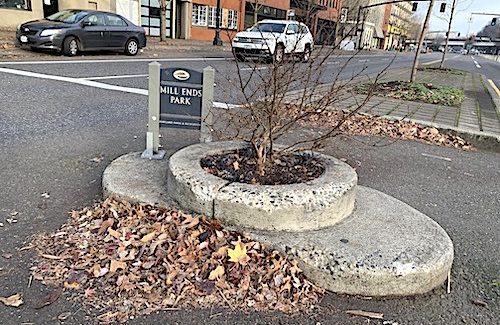 We're going to start off the New Year with a tough trivia question. At least it was tough for me. It has to do with a place that is listed in the Guinness Book of World Records.
I would never have noticed it if a tour guide hadn't pointed it out when I was on my way to board the S.S. Legacy. As my bus turned the corner, the guide told the interesting tale of this small plot of land.
So, the question is two-fold. Why is this spot famous and where is it located?
Don't look at the answer below until you've formulated your own response. Congratulations, if you are correct. You must be a trivia expert. Or maybe you live in or have visited this Pacific Northwest city and have seen this spot in person.
If you didn't know the answer, you might want to book a riverboat cruise from this beautiful city. My choice was the Rivers of Wine & Culinary adventure aboard the S. S. Legacy.
*
*
*
(Answer)
The world's smallest park is located in Portland, Oregon. Merely 2 feet wide, it sits in the median of heavily trafficked Naito Parkway and SW Taylor St. It was added to the Guinness Book of World Records in 1971.
The story goes that journalist Dick Fagan returned from World War II in 1946 and went back to his newspaper job. From his second floor office, he could see the busy street below. He also saw a hole in the median where a light pole was supposed to be added.
However, the pole was never installed. It just remained an ugly hole with weeds sprouting around it. So Fagan decided to beautify the hole himself. He weeded and planted flowers.
Then one day, the story continues, Fagan looked out his office window and saw a leprechaun digging in the hole. Fagan ran down and grabbed the leprechaun which legend says meant that the captured leprechaun must now grant Fagan a wish.
Therefore, Fagan wished that he could have a park of his own. But Fagan forgot to specify a size for that special park. So the wily leprechaun gave Fagan the hole.
Fagan named his tiny park Mill Ends Park – a lumber term for rough irregular ends of boards from lumber mills.
Mill Ends was also the title of Fagan's popular newspaper column in which he would chronical unusual events around town. An Irishman, Fagan wrote whimsical tales of leprechaun life in the petite park. Fagan claimed that he had founded "the only leprechaun colony west of Ireland" and that only he could see the teeny leprechauns.
Fagan died in 1969 at age 58. His old newspaper went out of business. But Mill Ends and its legend continues to live.
As if that isn't bizarre enough, the tour guide also told me that at least one wedding was performed at Mill Ends Park. I have no idea how a bride and groom could possibly stand side by side in that teeny space. With an officiant in front of them, no less. And traffic whizzing past them.
One of the world's wonderful oddities.
Story by Jackie Sheckler Finch