Cruise Trivia: What Does This Logo Mean and Where is it Located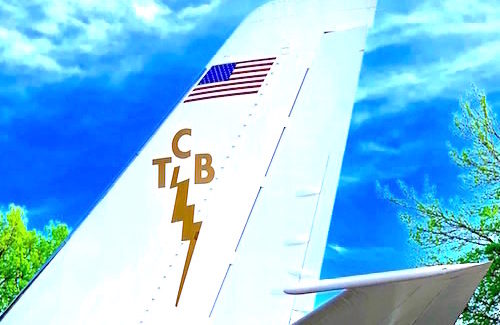 At first, I thought this might be too easy for a cruise trivia question. Then I heard two women discussing what the logo must mean. They were wrong. Very wrong.
So now it's your chance.
What do the initials "TCB" with a thunderbolt mean? Do you know where I took the photo with the logo?
A hint: Don't Be Cruel by googling the answer. The best way is to do it My Way.
Don't look at the answer below until you've formulated your own response. Congratulations, give yourself a Teddy Bear if you are correct. If not, might be time to book a cruise out of Memphis on the beautiful American Queen steamboat.
*
*
*
(Answer) Elvis Presley fans know this answer in a heartbeat.
The initials TCB stand for "Taking Care of Business" and the lightning bolt adds the words "in a Flash." That was Elvis's motto.
Elvis used the logo in some of his custom jewelry including his famous TCB ring and necklace. It's even painted on Elvis's airplane the Lisa Marie which can be toured at Elvis's Graceland home in Memphis.
Lisa Marie, of course, was Elvis's daughter. The airplane is the photo I took for this trivia quiz.
When Elvis returned to the concert circuit in 1969 after a decade-long string of Hollywood movies, he called his band the TCB. His live concert return came as a result of his record-setting TV show, the "68 Comeback Special."
Members of the TCB Band included James Burton on guitar, Glen Hardin on piano, Ronnie Tutt on drums and Jerry Scheff on bass. These musicians were along with Elvis from his triumphant return to the stage until his death at Graceland on Aug. 16, 1977, just before they were set to go on another tour.
Passengers on the American Queen often like to spend several days in Memphis before boarding the steamboat. Launched in 1995, the American Queen is the largest steamboat ever built with 222 staterooms. The boat is a member of Historic Hotels of America.
If you'd like a piece of TCB jewelry or a T-shirt, Graceland features a wealth of souvenirs with Elvis's logo. Or for an even more special Memphis visit, stay at the new Guest House at Graceland which offers TCB suites and is decorated with Elvis's style throughout the large hotel.
The Guest House is within easy walking distance of the Graceland mansion and the large Graceland attractions across from the home where Elvis lived and died. Elvis and his parents, Gladys and Vernon Presley, are buried on the Graceland grounds.
Story and photo courtesy of Jackie Sheckler Finch