Cruise Trivia: Name This Famous Music Pioneer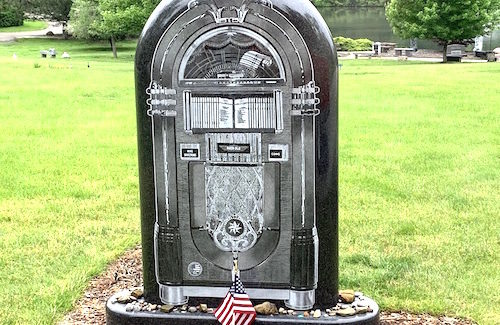 For all you music lovers, here's a toughie.
Although he was not known for singing or for playing a hot guitar, this man left an important mark on the development of rock and roll.
His tombstone tells his story, illustrated with a big jukebox on the back.
To make this quiz even harder, where is he buried? His final burial spot, please. After all, this guy did some traveling even after his death.
A hint – his career was derailed by the 1950s-payola scam. Give yourself extra points if you know what payola is.
Don't look at the answer below until you've formulated your own response. Rock on if you are correct.
If not, you might want to book a Victory I cruise to this rocking city along Lake Erie to learn more about this controversial fella.
*
*
*
(Answer)
A standing ovation for Alan Freed.
His jukebox tombstone tops his grave in Cleveland, Ohio, home of the Rock and Roll Hall of Fame and Museum.
Known as "The Father of Rock and Roll," Freed was the emcee of a TV program back in March 1952 when he referred to the new music he was spinning as "rock and roll." He was the first to coin the term.
Born Dec. 15, 1921, in Windber, Pennsylvania, Freed became a local radio star and concert promotor. At the height of his career, he worked at New York powerhouse station WINS where his musical choices – Jerry Lee Lewis, Chuck Berry, Little Richard, Bill Haley and the Comets – catapulted him to a national audience through syndication.
He played himself in five films in the 1950s. Targeted at teenagers, the films made Freed and rock and roll nationwide names. Look them up and watch the films if you get a chance – "Rock Around the Clock" (1956), "Rock, Rock, Rock" (1957), "Mister Rock and Roll" 1957, and "Go, Johnny, Go" (1958).
Freed's career came to a crashing halt when he was charged in the notorious 1959 pay-for-play scandal known as payola. Although he denied accepting bribes from record companies to play particular records (Freed said the payments were consultation fees, not bribes), he lost his job and his reputation never recovered.
Freed turned to heavy drinking and died of kidney disease and cirrhosis of the liver in Palm Springs, California, on Jan. 20, 1965. He was 43 years old.
His body was cremated and his ashes interred in Ferncliff Cemetery in Hartsdale, New York. But he didn't remain there.
On March 21, 2002, his ashes were re-interred in a wall in the Rock and Roll Hall of Fame in Cleveland, Ohio. The popular facility had opened on Sept. 2, 1995.
On May 7, 2016, Freed's ashes were moved once again. His final resting place is in Cleveland's Lake View Cemetery where he is honored with a gravestone with a big jukebox on the back.
To leave you with a really difficult zinger – what is the name of the musician who suggested that a jukebox would be an appropriate gravestone for Freed?
It was Freed fan Steven Van Zandt of the E Street Band. Van Zandt also spoke at the burial ceremony saying, "For those of us whose religion is rock 'n' roll," the event was "sacred."
Photo and story by Jackie Sheckler Finch