Cruise Trivia: Name This Famous Ball Player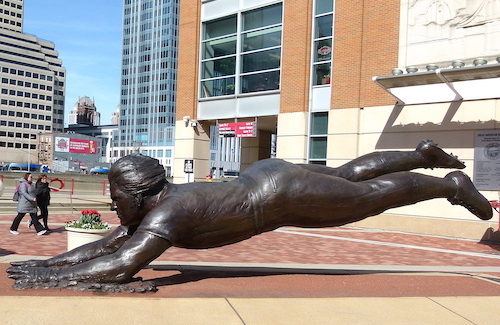 For all you dedicated sports fans, can you identify this hard-charging professional baseball player?
Although he is one of the best in the business, he has never made it into the Baseball Hall of Fame.
As a second bit of cruise trivia, do you know why he has not been so honored?
A hint – his nickname was "Charlie Hustle."
Don't look at the answer below until you've formulated your own response. Congratulations, if you are correct.
If not, you might want to book a riverboat cruise to this beautiful "Queen City" along the Ohio River to learn more about this controversial player.
*
*
*
(Answer)
Yep, it's Pete Rose.
Born April 14, 1941, in Cincinnati, Pete Rose became one of the greatest players in the history of professional baseball and retired as the all-time leader in hits, games and at-bats.
The story goes that Rose got his nickname of "Charlie Hustle" during a spring training game against the New York Yankees in his 1963 rookie season. Rose drew a walk and sprinted to first, prompting Whitey Ford and Mickey Mantle to yell from the dugout, "There goes Charlie Hustle."
Rose was an integral part of the famed "Big Red Machine," the Reds teams that from 1970 to 1976 won five division titles, four NL pennants, and World Series championships in 1975 and 1976.
Rose's winning streak came to halt when he was accused of betting on games. In his 2004 autobiography My Prison Without Bars, Rose admitted to betting on baseball games and other sports while playing for and managing the Reds.
Rose also admitted to betting on Reds games, but said he never bet against the Reds.
Although ineligible for the Baseball Hall of Fame because he has been banned from baseball, Rose was inducted into the Cincinnati Reds Hall of Fame in 2016.
He also has been honored with a huge statue of him sliding into base in front of the Great American Ball Park in Cincinnati.
Story and photo by Jackie Sheckler Finch