Cruise Ship Artist: Dan "LEBO" LeBatard - Crown Cruise Vacations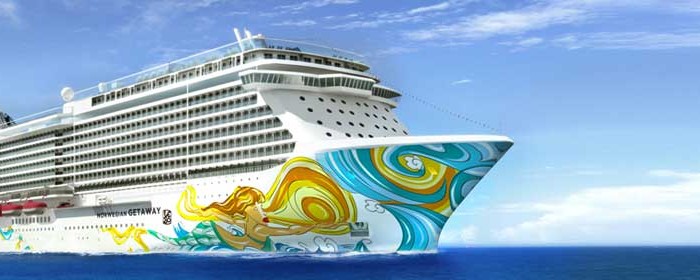 Norwegian Cruise Line hasn't even launched the New York themed Norwegian Breakaway on the high seas yet, but they can't seem to keep a lid on the excitement that they're building from the Norwegian Getaway. Like the Breakaway, the Getaway is going to be themed around its homeport which for this ship is Miami, and they've chosen Miami artist Dan "LEBO" LeBatard to design the hull art for the ship, scheduled to launch in early 2014.
LEBO is as excited as we are about this ship! On the Norwegian Getaway blog, he described some of the challenges and excitement about working on this design. "For the past 15 years I've been able to live as a professional working artist, traveling and discovering the world through the perspective of creating art, and now this- painting the hull of a spectacular cruise ship. Having designed exteriors of buildings through murals has allowed me to work on large scale projects but a ship the size of Norwegian Getaway is beyond anything I could have ever considered. As I sat on my computer working on the design on the architectural drawings I was in awe of the size and scale of Norwegian Getaway – it truly is a thing of beauty. And there's no way to describe the feeling of thinking of that this would be majestically sailing through our planet's oceans," said LeBatard.
The ship is scheduled to launch in January 2014 with a transatlantic sailing and then will be focused on the Caribbean from thereafter.
We'll keep you posted on the latest about this exciting ship, we promise. But, why not get in on the fun and book your passage on the Norwegian Getaway's inaugural season? Click here for more information.