Cruise Destination Trivia: Identify the grave - Crown Cruise Vacations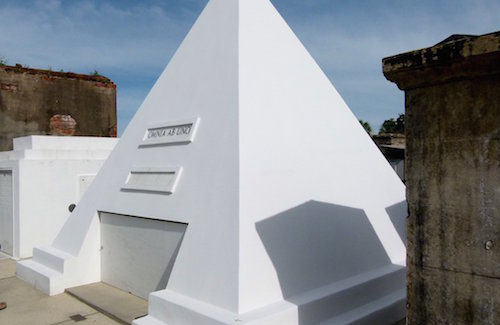 Cruise Destination Trivia: Identify the grave
By Jackie Sheckler Finch
Recognize this pyramid-looking grave? Know where it is located? It is huge and seems quite out of place in this historic cemetery. I was told that locals don't much care for it, thinking it too grand and ostentatious.
A hint:  The man who paid for it is not dead yet. He just wanted it to be ready for when he departs this world. This quiz is a Big Toughie. It's certainly not a Big Easy.
Don't look at the answer below until you've formulated your own response.
*
*
*
*
(Answer)
Actor Nicholas Cage had this 9-foot pyramid built for his final resting place near voodoo queen Marie Laveau in New Orleans' oldest cemetery, St. Louis Cemetery No. 1. The Latin inscription means "Everything From One."
Congratulations if you are correct. Treat yourself to a Sazerac cocktail.
If not, might be time to plan a trip to the Big Easy, as New Orleans is known. You'll have to pay a tour guide to take you through the late 1700s Cemetery No. 1 near the French Quarter. Vandalism in the famous burial ground was such a problem that licensed tour guides now have to accompany visitors and keep a close watch for any mischief, such as that seen in the movie "Easy Rider," which was partially filmed in the cemetery.
Photo by Jackie Sheckler Finch