Cruise Destination Trivia: Identify the gigantic sculpture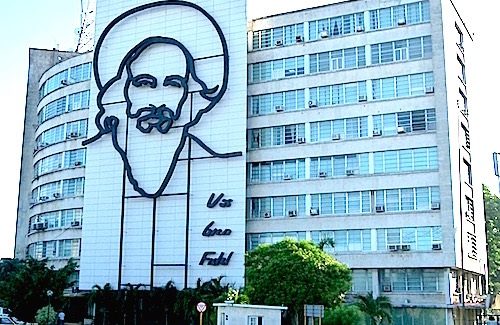 Recognize this bearded man? He is huge, an image posted on a building.
A hint:  The woman standing next to me thought it was a memorial to Fidel Castro. Nope, it is not Fidel but the homage is located in Cuba. Don't look at the answer below until you've formulated your own response.
Congratulations if you are correct.  Give yourself a treat. If not, might be time to plan a trip, preferably a cruise to Cuba.
*
*
*
*
(Answer) The unusual feature is a steel sculpture on a government office building in Revolution Square salutes Cuban Revolution hero Camilo Cienfuegos, a close confidante of Fidel Castro.
A quotation by Cienfuegos also is on the building. It says, "Vas bien, Fidel." (You're doing fine, Fidel).
The Cienfuegos facial sculpture is sometimes mistaken for Fidel Castro, although I don't see a resemblance at all. I guess people just expect to see a memorial to the beloved/hated Cuban dictator since this is his Revolution Square in Santiago, Cuba.
Story and Photo by Jackie Sheckler Finch